9 Helpful Tips when Downsizing your Home
Posted by Preston Guyton on Saturday, June 19, 2021 at 7:07 AM
By Preston Guyton / June 19, 2021
Comment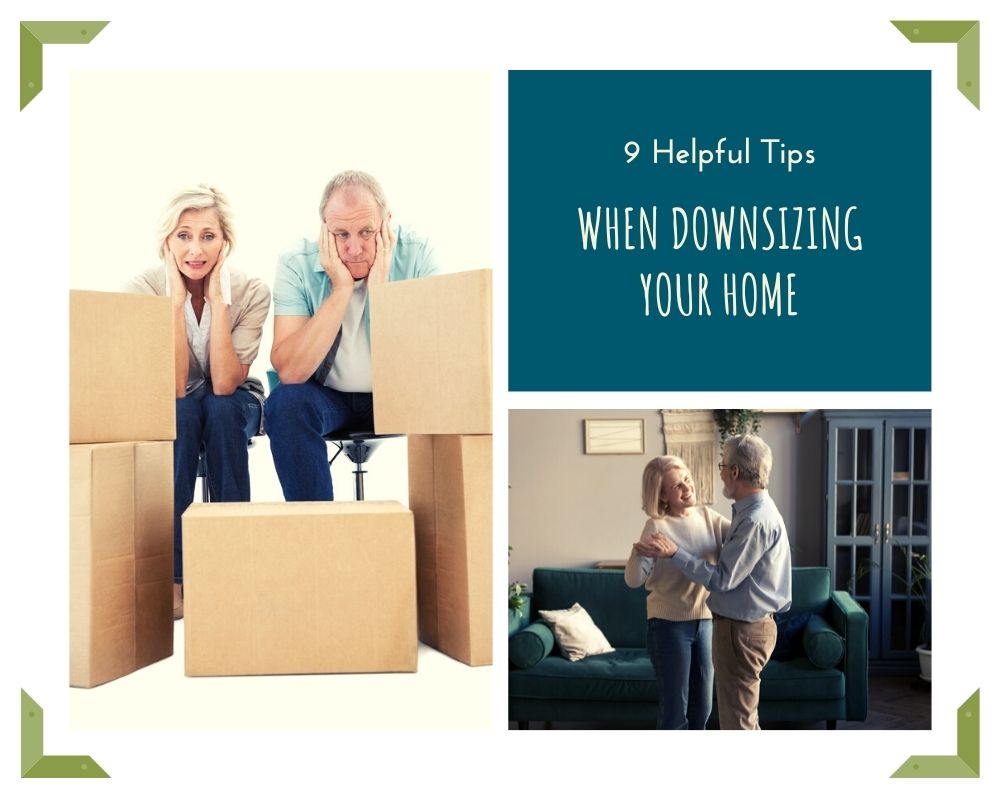 9 Helpful Tips When Downsizing Your Home
Downsizing is much like any other move — but it can be much more difficult depending on why you are downsizing. Compared to just having to sell, donate, or discard old property, downsizing requires more than casting away your physical life. Sometimes, you have to get rid or, or store a whole life's worth of belongings.
No matter how you plan to approach downsizing your home, it can easily become overwhelming. Thankfully, we've come up with this list of tips for downsizing which outlines how you can strategically manage all the steps that go into downsizing. We'll help you keep the things you love while making room for new things — read on below to find out how you can successfully perform a house downsizing.
1. Plan Ahead of Time
While change can be a scary and unsettling process, it can become more tolerable when you take a proactive approach in the transition. Ideally, it's best to have things planned years ahead of time. While the unpredictability of life can throw a wrench in the works, you'll probably be able to tell if you'd prefer to live in a bigger or smaller space in the future.
From here, you should be able to narrow down a timeline of when things should fall in place, so you can feel more in control of your life. Allowing yourself more time before downsizing will also help you to make informed decisions. During this time, you can check out new places and rent out a house or apartment similar to the size of the future home you envision having in the future.
2. Think About Your Future Needs
Downsizing isn't just about making inch-by-inch measurements; you also need to think about the bigger picture of what you hope to get as a result of downsizing. This isn't just about the physical things, but also what you want out of your new space. Downsizing provides you with the chance to reset everything.
Understanding your goals and reasoning will help you become more excited about the process of downsizing. Make a list of questions that can help you address the question of why you're downsizing your home, including questions such as:
What are your reasons for downsizing?
What will you miss about your old home?
What are the opportunities that downsizing will create?
What makes you excited about downsizing?
Do you have any activities or hobbies you want to explore?
What's the first thing you want to do when you settle into your new home?
Setting your intentions by answering the questions above will help you develop a much clearer view of what things can be included in your new home and lifestyle.
3. Work on One Room at a Time
For many of us, the amount of effort needed to organize and declutter an entire home can be daunting, so stay calm and take things one day at a time. Breaking the task into multiple, smaller projects will make the process more manageable. Start by making a plan and keeping a schedule to ensure that everything stays on track. A few items that you can go through one at a time can be the following:
Declutter the junk drawer.
Look through video games and DVDs.
Sort through the clothes in your closet.
Choose which shoes to keep and give away.
Go through the dresser drawers.
Organize all your kitchen items.
Go through all your pots, pans, and containers.
4. Take Measurements of the New Space You'll Be Using
You need to know the size of the space you're looking to move into in order to properly downsize. If possible, take down the shape and square footage of each room — this will help you determine which pieces of furniture will need to be removed before moving. If you don't have the measurements for your new place, work on decluttering and removing items that you no longer need.
It will also help to know that your current furniture may not fit in your future home, so instead of squeezing everything into a smaller space, it's best to take the opportunity to redesign and simplify your space. Once you know how much space you'll need to use regularly, you can make better choices. While you may take up a smaller home in terms of square footage, it can feel bigger and more expansive when you've optimized the use of every room.
5. Learn to Live With Less
You can prepare ahead of time for your move to downsize simply by living with fewer things in your home. Consider whether you need so many things or if you can make do with less; do you really need three sets of dishes in the kitchen or can you make do with one? If you're able to make adjustments in advance, making changes when the time comes to move won't come as much of a shock.
Getting rid of stuff early on will provide you with the opportunity to expand your options in the future, should you choose a bigger home again. Furthermore, going through your belongings bit by bit will allow you to bring smaller boxes for donation regularly, rather than having to carry a big load all at once. When you learn to trim your life down to its essentials, you can get a better idea of the exact amount of space you need to accommodate your things.
6. Determine How Many Rooms You'll Need
Unfortunately, downsizing doesn't work as a one-size-fits-all kind of deal, and not all of us can adapt from living in a huge house with a backyard to a one-bedroom apartment. To see how much room you'll need in your new home, observe the way you live now. Pay attention to the rooms that you're always in and rooms that you never use — apart from Thanksgiving, how often do you use your formal dining room? If you're never inside a particular room, you don't need it, and it won't be needed in your new home.
7. Donate or Sell Any Non-Sentimental Items
If you have any items that you don't need to bring to your new place, try selling them through a garage sale. Doing this can help towards paying for new items for your home or for moving costs. You can also go online to various marketplaces such as Craigslist, eBay, LetGo, OfferUp, and more.
If you do go the online path, however, exercise anti-fraud and safety precautions when you use these options. On the other hand, if you prefer donating your items to a good cause, here are a few charities and nonprofits that will be happy to take home items and clothing:
Salvation Army
Goodwill
The Arc
Habitat for Humanity
Furniture Bank
Local Charities to your area
8. Be Creative With Your Storage
Smaller homes often have less storage and will have fewer places for your things. Because of this, many people are seeing the importance of furniture that serves various purposes. Some examples of this include Murphy beds with drawers for extra storage space and beds that can be packed away during the day. Keep in mind that everything needs to provide space as well as serve a purpose. While not every room in the house can be used like a basement, garage, or attic, there are things you can do to maximize your storage spaces:
Create options for built-in storage whenever possible: Make use of multifunctional furniture such as platform beds with drawers, storage ottomans, bookshelves, wardrobes, entertainment centers, and more.
Make use of open wall space: If you're looking for options to display your favorite things, floating shelves can create flair and storage for any home.
Use hidden storage spaces to your advantage: Use other spaces in your home such as closets, crawl spaces, or spaces under the stairs to store your things. You can also add storage to small bathrooms by adding towel racks, standalone shelves, over-the-door hooks, and bins for storage under the counter.
9. Don't Forget to Ask for Help
Any kind of move can be an emotionally, physically, and mentally exhausting process for anyone, and it isn't something that you should do by yourself. If you're unable to get help from friends and family, you can turn to professionals who can help you through each step of the way. Buying and selling a home simultaneously can be a lot of work, so it's easy to drown without the right people helping you.
If you're feeling overwhelmed or like you can't handle a certain step in the downsizing process, it's always a good idea to enlist the help of professional movers. While it's good to know what your strengths and weaknesses are, you might still have a hard time organizing or letting go of items. Search professional movnig companies that can help you manage your move from your old home to your new one.
Final Tips
Even if you only have an interest in small trinkets and items, it's surprising how quickly these things can accumulate and congest a home and make it feel smaller. It's for this reason that you need to be vigilant about keeping things in your home — just one small piece can spread like a disease. One solution to clear your home is to downsize, which can be done through spring cleaning, selling things online, or a garage sale.
No matter what you do though, be sure to reduce the amount of junk that makes its way to your house. Because whether we admit it or not, the less stuff we have inside the house, the less stress we'll feel. By getting rid of things around the house, you'll also form a cycle of using less, saving more, and living happier, more spacious lives.