9 Best Places to Live in Newnan, GA
Posted by Preston Guyton on Monday, August 8, 2022 at 10:33 PM
By Preston Guyton / August 8, 2022
Comment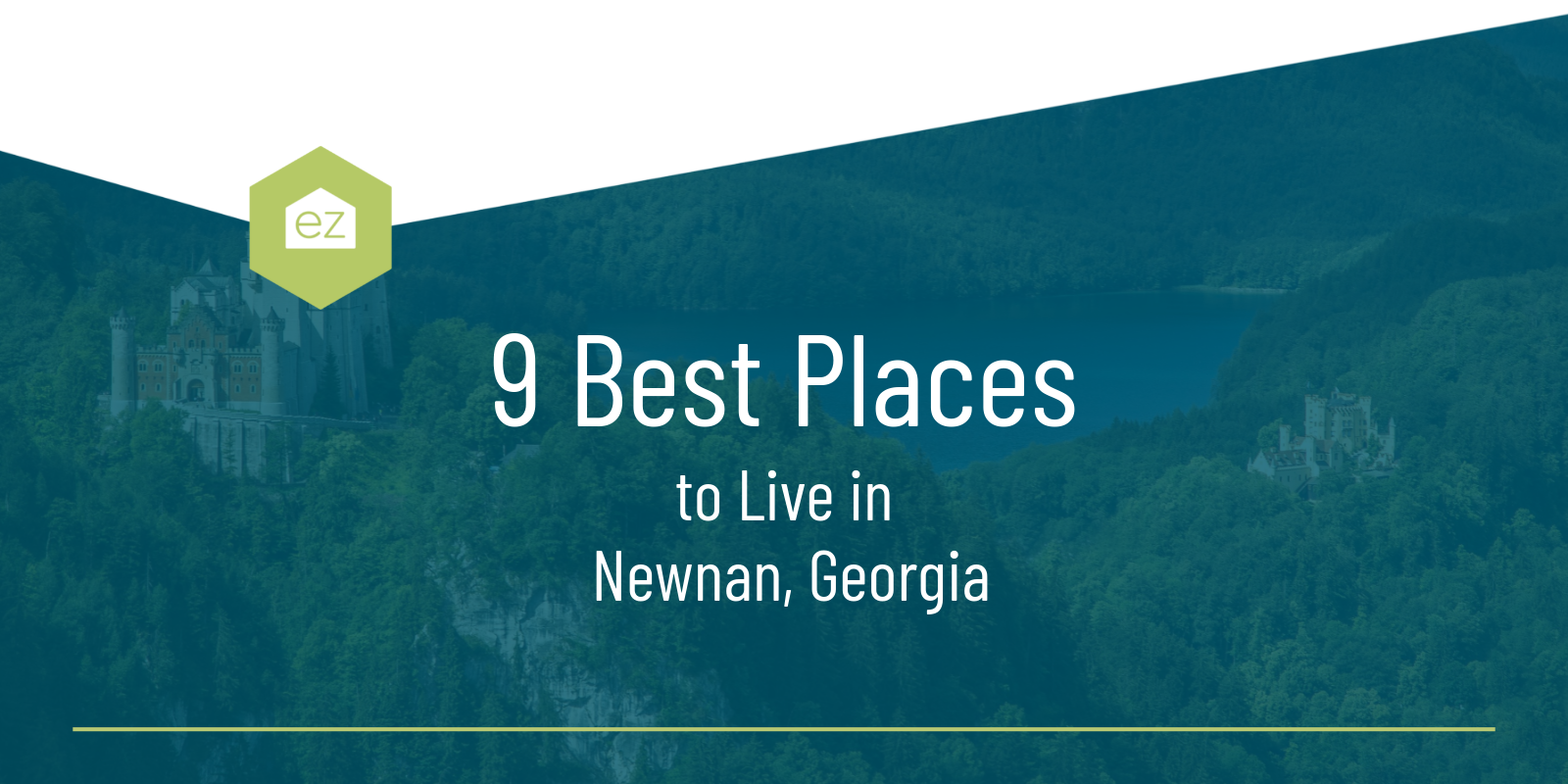 9 Best Places to Live in Newnan, GA
Atlanta is one of the fastest growing cities in the US—and the same can be said of its greater metropolitan area. Such a big city isn't for everyone, though! If you want to experience the convenience of Atlanta's nearby amenities while avoiding the chaos of its busy streets, consider a small town outside the city.
About 40 miles southwest of Atlanta is the small, historic city of Newnan. As the seat of Coweta County, Newnan is known for its splendid architecture and historic districts. Residents blend the past with the present and have access to plenty of contemporary shopping, dining, and entertainment experiences, plus countless opportunities for outdoor adventures.
Thinking of moving to Newnan, GA? It's important to research the area to find the perfect spot for you and your family. Start your home search here with the top seven best places to live.
Why live in Newnan, GA?
Like many communities in and around Atlanta, Newnan is steeped in history and culture. Its six historic districts are all on the National Register of Historic Places: Cole Town, College-Temple, Downtown, Greenville-LaGrange, Newnan Cotton Mill Village, and Platinum Point. As a center of the cotton industry and railroad hub, Newnan became a wealthy city in Georgia. The city did not see significant war action during the Civil War, which has helped preserve much of its architecture and history. The nickname "City of Homes" may reflect its historic high homeownership and unique construction.
Those interested in history may want to pay a visit to the Coweta County African American Heritage Museum on Farmer Street or the historic Coweta County Courthouse on Court Square. It's here the events of the novel Murder in Coweta County by Margaret Ann Barnes took place.
For a fun experience for the whole family, consider visiting the Newnan ChildrenConnect Museum, where countless fun, hands-on educational activities await all ages. You might also consider Shaw Farms, a local alpaca farm where you can learn about and interact with alpacas!
Newnan's thriving downtown district features many local businesses for you to discover. Visit the historic Newnan Carnegie Library, recently restored and one of the earliest Carnegie Libraries. As the heart of the community, the historic downtown hosts events and festivals throughout the year. Besides shopping, you can catch a show put on by the Newnan Theatre Company.
If you're interested in theater, also consider checking out the schedule for The Centre for Performing and Visual Arts of Coweta County off Lower Fayetteville Road.
Not only is there plenty for the whole family to do in and around Newnan—but Atlanta and everything it offers is less than an hour's drive away!
About the Newnan Real Estate Market
Over the past few years, Newnan's sale-to-list price ratio has fluctuated. Like much of the country in 2022, the average home listing price is about 20% higher than it was last year, at $398,000. This comes out to just about $172 per square foot.
The median home sold price was slightly lower in August 2022 at $370,000. Properties in Newnan typically spend an average of around 39 days on the market.
While the local market currently favors the seller overall, it remains more balanced than some other areas of the US.
What are the best places to live in Newnan, GA?
If you're looking to move into a beautiful, recently built subdivision, you'll be happy to know that there are plenty of options in and around Newnan. Here are eight of the top choices and a little bit of information about each one.
White Oak
Featuring a total of 750 homes spanning two private golf courses, the community of White Oak is one of the premier residential subdivisions in the area. White Oak Golf Club features a total of 36 holes and was designed by Rocky Roquemore. Other amenities include tennis and pickleball courts, plus a luxury clubhouse to relax in.
Many homes are available here, from single-story cottages nestled in the trees to larger, recently constructed properties. They range from just under 1,300 sq feet to about 10,000 sq feet.
List prices in White Oak ranged from around $275,000 for a three-bedroom, two-bathroom house to $1.45 million for a seven-bedroom, 5.5-bathroom property in August 2022.
Braemore
To the northwest of White Oak is a small community on Braemore Lane, off Calumet Parkway. These two-story homes, designed by Lennar, only slightly vary in size: from 3,069 to just over 3,400 sq ft. The first floor features a cozy fireplace, family room, formal dining room, and a bedroom. On the second floor of these houses, you'll find the remaining bedrooms and a loft.
Only three properties were for sale on Braemore Lane, all of which have yet to be built as of August 2022. They range from a four-bedroom, three-bathroom design listed at $438,400 to a four-bedroom, 3.5-bathroom home priced at $468,400.
Stonebridge
The Stonebridge at Newnan Crossing community features cozily spaced, immaculately maintained properties surrounding a densely wooded area off Newnan Crossing Boulevard. This 200-acre neighborhood features resort-level amenities, including a fitness center, a lighted tennis court, a Junior Olympic-sized pool, and a clubhouse complex with three buildings.
Most of the homes here feature two stories and brick facades. They range in size from 1,452 to just under 5,000 sq ft.
Several homes were listed for sale within the Stonebridge community in August 2022, ranging from a single-story, three-bedroom, two-bathroom cottage listed at $349,900 to a six-bedroom, 3.5+ bathroom home priced at $549,000.
Arbor Springs Plantation
At about 1,500 acres, Arbor Springs Plantation is one of the most expansive neighborhoods in Newnan. The community offers plenty of space between properties while remaining close to several quality amenities maintained by the local HOA. These include a tennis court, swimming pool, playground, private clubhouse, and an 18-hole public golf course.
Homes here are large, ranging in size from 2,000 to 8,000 sq ft. List prices start at $650,000 for a three-bedroom, 2.5-bathroom property and go to $1.27 million for a six-bedroom, 5.5-bathroom design.
Lake Redwine
The 622 homes that make up the Lake Redwine Plantation neighborhood are named after the nearby 300-acre lake and offer opportunities for waterfront living. Residents of Lake Redwine also have access to several amenities, including tennis and pickleball courts, swimming pools, and a playground.
Lake Redwine is great for all sorts of outdoor activities like boating, swimming, and fishing. It provides gorgeous views in the morning and evening when the weather is clear.
There were nine homes for sale in this neighborhood, ranging in size from 2,389 to 4,655 sq ft, in August 2022. List prices ranged from $474,900 for a four-bedroom, 2.5-bathroom home to $1.18 million for a five-bedroom, 5.5-bathroom property on the shores of Lake Redwine.
Summergrove
The Summergrove community is another expansive subdivision on the south side of GA Route 34, across from White Oak. This premier neighborhood features many amenities: three pools, lighted tennis and pickleball courts, walking trails, playgrounds, parks, and access to the 100-acre Lake Summergrove.
Summergrove is built around the 18-hole, semi-private Summer Grove Golf Club, a par 72 course featuring two fairways and a practice facility.
There were 12 homes for sale in Summergrove in August 2022, ranging in size from 1,660 to 6,129 sq ft. They ranged from $325,000 for a two-bedroom, two-bathroom cottage to $ 1.19 million for a five-bedroom, 4.5-bathroom construction.
Fox Ridge
On the opposite eastern side of Lake Summergrove sits the new subdivision of Fox Ridge, featuring houses ranging in size from 2,542 to 3,200 sq ft. Residents also have access to a pool.
List prices for homes here ranged from $319,000 for a four-bedroom, 2.5-bathroom property to a six-bedroom, three-bathroom property listed at $419,000.
Ashton Place
Connected to Fox Ridge via South York Drive, the Ashton Place subdivision also grants residents access to a private pool. Homes here are similar in design and range from 2,635 to 2960 sq ft.
List prices ranged from $489,000 for a 5-bedroom, 3-bathroom design to $499,000 for a property in August 2022.
Parkside Village
Just outside of Newnan, adjacent to the neighboring town of Sharpsburg, is the neighborhood of Parkside Village. This is a mid-sized subdivision off Parks Road and bordered by Chandlers Creek on its west side.
There were nine homes for sale in August 2022, ranging from $409,000 for a four-bedroom, 2.5-bathroom home to a five-bedroom, four-bathroom home listed at just under $500,000.
Living in Newnan, GA
If you want a prosperous place away from the hustle and bustle of Atlanta to call home, you should consider Newnan. This historic city oozes character, from its antique shops to period homes to six historic districts. Nonetheless, you can find a new, contemporary home with the upgrades and character expected of 21st-century living.
If you're thinking about living in Newnan, contact a local real estate agent to find the right neighborhood for you.