9 Best Places to Live in Mt Pleasant, SC
Posted by Preston Guyton on Sunday, June 26, 2022 at 6:16 AM
By Preston Guyton / June 26, 2022
Comment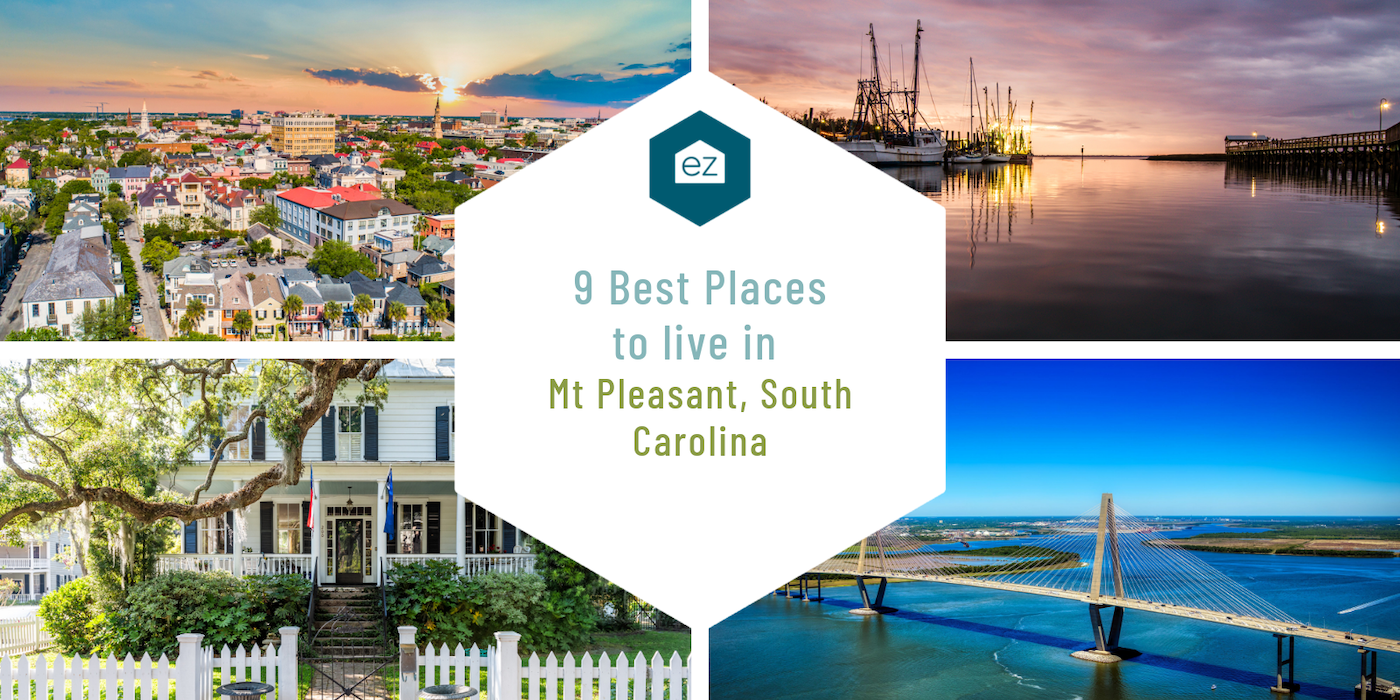 9 Best Places to Live in Mount Pleasant, SC
Mount Pleasant is one of the nation's fastest-growing cities. Is it the laidback southern lifestyle that draws people to Mount Pleasant? Perhaps it's the family-friendly atmosphere and top-notch schools. Or, maybe people prefer the more affordable cost of living compared to next-door Charleston. Whatever the reason, living in Mount Pleasant certainly has plenty of advantages.
Learn why it's worth considering this South Carolina boom town for your home. Or, if you're one of the many looking at moving to Mount Pleasant, you may be wondering where to live in Mount Pleasant. Get a sense of the lifestyle in this harborside town and some great places to start your home search.
Why live in Mount Pleasant?
Mount Pleasant is directly across the harbor from Charleston and is part of the Charleston metropolitan area. Nationally, it was the 12th-fastest-growing city in the 2020 Census, with an annual population growth rate of 3.3%.
Residents have many reasons to love Mount Pleasant, but here are a few that stand out:
The Mount Pleasant Towne Centre is a premier mixed-use district consistently voted one of Charlotte's Best Spotting Destinations. Here you'll find over 500,000+ sq ft of open-air retail and entertainment. You have name-brand retailers, restaurant chains, a movie theater, and local boutiques.
The robust dining scene serves everything from traditional Lowcountry to globally inspired fare. Three local breweries offer craft concoctions. Local events include the Blessing of the Fleet & Seafood Festival and ArtFest. The weekly Farmer's Market is at the Mount Pleasant Farmer's Market Pavilion.
In terms of weather, Mount Pleasant has a humid subtropical climate with mild winters and hot, humid summers. Average temperatures in Mount Pleasant range from 60F in the winter to 86F in the summer. Mount Pleasant is also one of the driest cities in South Carolina, with an average of only 45 inches of rain per year. Enjoy the great outdoors for most of the year.
There's no shortage of things to do in Mount Pleasant. If you love being on the water, you can enjoy kayaking and fishing on Shem Creek or boating on the Wando River. Stay on land by hiking and biking on one of Mount Pleasant's many trails. The Palmetto Islands County Park has 10 miles of trails, a dog park, tidal fishing access, a splash pad water park for children, and playgrounds.
Mount Pleasant is a great place for families. The Mount Pleasant Recreation Department runs programs for children of all ages every month. The Charleston County School District operates the local public schools, many of which are nationally recognized and rank as top-performing schools in the state.
Where to live in Mount Pleasant
If you're looking for a place to live in Mount Pleasant, here are a few great local communities to start your search:
Cooper Estates
This neighborhood is mostly 1960s and 1970s homes, meaning you have a large selection of style possibilities. The predominant design is brick ranch houses on fairly large lots. Some properties have been completely renovated, while others have the potential for you to put a personalized spin.
The community has a private boat landing on Shem Creek for residents. Nearby is prime shopping, like Whole Foods and Trader Joe's.
You're also just a short drive from Mount Pleasant's Towne Centre and the Mount Pleasant Memorial Waterfront Park.
Hobcaw Point
Hobcaw Point is an established community of 384 homes on the Wando River, making it an option for waterfront living. Enjoy scenic, tree-lined streets in a walkable community. The Hobcaw Point Yacht Club supplies the community with a deep water dock, but membership is optional.
Hobcaw Point is a smaller neighborhood with most houses built in the 1960s. The predominant style is Lowcountry, but you'll also find some traditional two-story homes and ranch-style houses. You'll find recently renovated, the potential for renovation, original homes, and rebuilds.
The June 2022 median list price was $1.6 million, with four homes for sale.
Old Village and Old Mt. Pleasant
These side-by-side neighborhoods are Mount Pleasant's historic districts. The area was originally developed in the late 1700s and up through the 1960s. The area has been designated a National Register Historic District and Mount Pleasant Landmark District.
Old Village and Old Mt. Pleasant draw people in with their small-town feel, central location, and public schools. Homes border community parks. Attractions in Charleston or the beaches at Sullivan's Island are walkable or bikable. The commercial area has charming boutique stores, bakeries, and a 60-year-old Pharmacy with a soda fountain.
You'll find a mix of architectural styles and historic homes in the Old Village. Findings range from restored ca. 1800 homes to 1940s cottages. The Old Mt. Pleasant side has more ranch-style houses, often with renovations.
The historic district had nine homes for sale in June 2022 for a median list price of $2.8 million.
Belle Hall
This newer neighborhood is located just north of Mount Pleasant. It's close to the Mount Pleasant Towne Centre for shopping and dining and to I-526 for an easy commute.
The neighborhood has a community pool, clubhouse, tennis courts, and play park. Residents enjoy a pool, fitness center playground, and skatepark at the nearby Mount Pleasant Recreation Center. Belle Hall Shopping Center provides groceries at Harris Teeter and a local Starbucks.
Belle Hall breaks into several subdivisions with varied home styles. The nine homes for sale in Belle Hall during June 2022 had a median list price of $657,000.
I'On
Best known for its "new urbanism" master plan and style, this Mount Pleasant neighborhood is coveted for its many amenities. The whole point of living in I'On is to live an integrated lifestyle with minimal need for a car.
Public spaces are designed to be accessible and near to housing. At I'on Square, locals have restaurants and shopping within walking distance. The private I'On Club is available for private fitness, tennis, and aquatics located on the Wando River. A full-time staff leads the tennis programs.
Other amenities include a boat ramp, kids' play park, and dock facilities. There is an HOA fee.
Most of the homes in I'On were built in the late 1990s and early 2000s. Design-wise, the homes mimic the downtown Charleston styling with ornate wrought iron fences, triple porches, and cupolas. It has the feel of a historic home with all the modern upgrades.
The June 2022 median list price was $1.9 million, with 11 homes for sale.
Dunes West
Dunes West is Mount Pleasant's largest gated community and one of the Charleston area's prime golfing communities. The development divides into smaller subsections like Cypress Pointe, The Harbour, and Marsh Landing.
Residents enjoy views of the Arthur Hills-designed golf course with scenic Wagner Creek and Wando River views. The River Club has deep water access, a private fitness center, three swimming pools, a play park, and a private boat ramp. Boat storage is available.
Housing options include townhomes and single-family homes. Some homes have deep water docks. HOA fees vary based on the home's location inside or outside the gate.
Dunes West had 29 homes for sale with a median list price of $869,500 in June 2022.
Rivertowne
This Mount Pleasant neighborhood is on the Wando River with several miles of waterfront property and a community dock. It appeals to those who want a waterfront or golf course lifestyle.
The community has an optional country club membership with access to a golf course designed by Arnold Palmer, plus tennis courts, a pool, and a playground. The neighborhood's waterfront amenities include tennis courts, swimming pools, a play park, and a private boat landing.
Residents are minutes from Mount Pleasant Towne Centre for shopping and dining.
Homes in Rivertowne were mostly built in the early 2000s in a Charleston and Low Country style. The June 2022 market had seven homes listed at a median price of $877,000. There is an HOA fee.
Carolina Park
This Mount Pleasant neighborhood is still under development, with new construction homes being built by around nine builders. Carolina Park is a planned community with over 300 acres of parks, trails, and open space.
Two schools and a hospital will be within the neighborhood boundaries, along with a new Mount Pleasant public library. The Mount Pleasant Sports Complex will have 12 lighted fields for soccer, lacrosse, and football.
Carolina Park plans call for 1,500 homes. There were 28 listings with a median price of $825,000 in June 2022.
Oyster Point
Oyster Point's benefit is its central location in Mount Pleasant. It's a planned community designed by two builders to provide larger homes and upgraded duplex-style townhomes. It is divided into four sub-sections.
In-community walking trails span for three miles, with one leading to Fort Palmetto, a Civil War-era fort. The clubhouse has fitness facilities and a movie screening area.
Homes in Oyster Point were mostly built in the 2010s. Construction is ongoing in some subdivisions, such as The Enclave. There is an HOA fee.
Living in Mount Pleasant
Mount Pleasant is a great place to call home. With its beautiful scenery, family-friendly atmosphere, and proximity to Charleston, it's no wonder this city is one of the fastest-growing in the state. Mount Pleasant offers residents a high quality of life, with plenty of activities to satisfy everyone.
If you're considering Mount Pleasant for your home, a local real estate agent can help pinpoint the right neighborhood for you.