8 Top Places to Live in West Palm Beach
Posted by Preston Guyton on Friday, May 26, 2023 at 12:40:38 AM
By Preston Guyton / May 26, 2023
Comment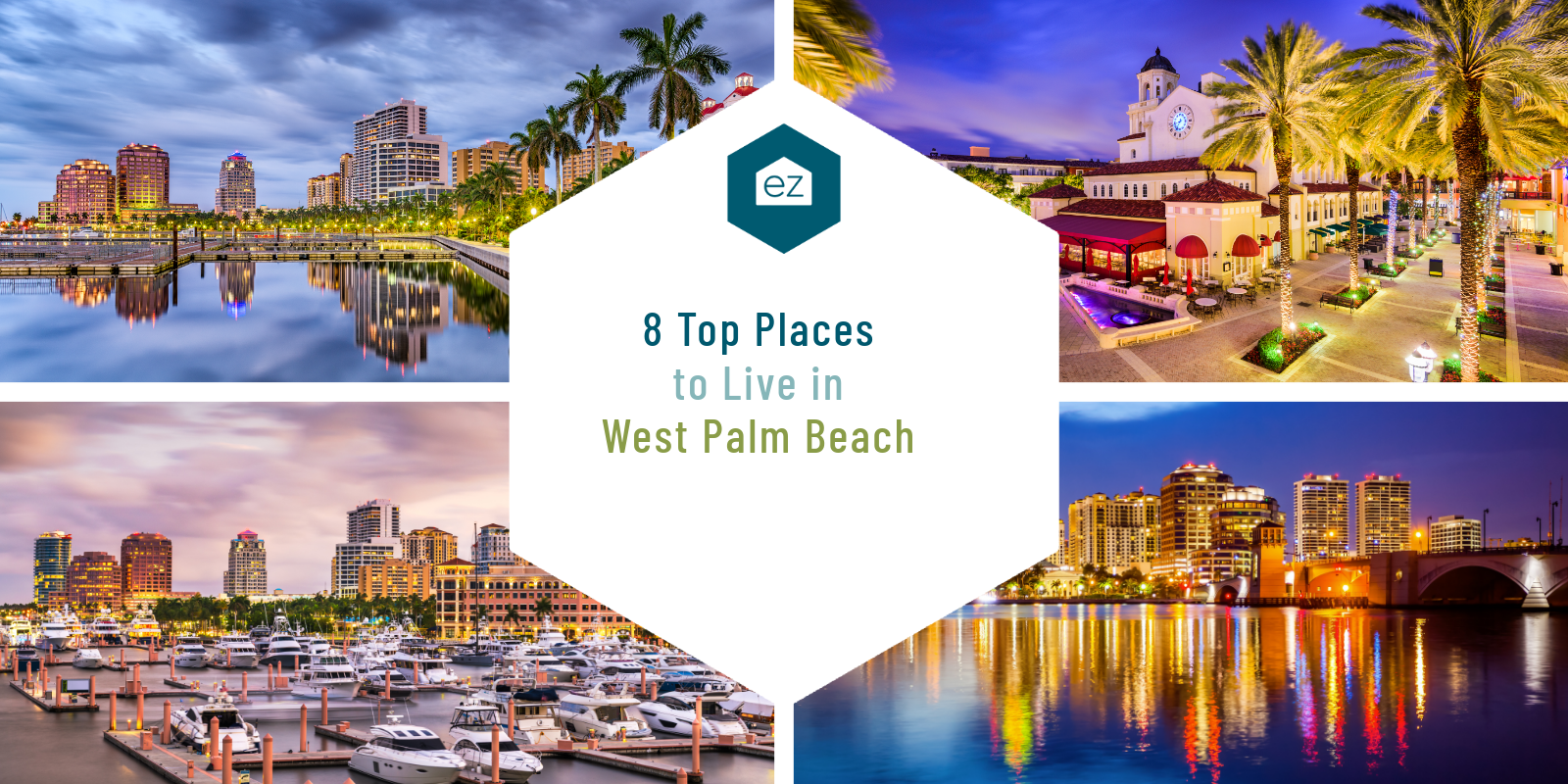 8 Top Places to Live in West Palm Beach
Looking for a groovy spot to call home in West Palm Beach? Look no further! This sunny Florida city bursts with neighborhoods as unique as a vinyl collection. From the happening downtown scene to the historic streets lined by charming old Florida homes, there's a neighborhood to match your lifestyle. We're dishing up the lowdown on where to find waterfront views, a happening arts scene, or a family-friendly vibe in West Palm Beach, FL.
Read on and explore what makes West Palm Beach the ultimate place to call home in south Florida and a few of its coolest neighborhoods.
What are the perks of living in West Palm Beach, FL?
The retirement town has become attractive to people of all ages. Besides being able to live near the gorgeous Palm Beaches without the millionaire price tag, West Palm Beach sparkles with arts and cultural attractions.
For example, the Norton Museum is a renowned art museum housing an extensive collection of American, European, and Chinese art, as well as contemporary art and photography. Perhaps most well-known as its Sculpture Gardens featuring over 100 works by Ann Weaver Norton. The museum often schedules special exhibitions and educational programs.
But the art scene thrives beyond the Norton, with performers on stage at Kravis Center for the Performing Arts, a popular destination across the Beaches for concerts, ballets, and off-Broadway shows. The Armory Art Center provides art classes and workshops for all ages and skill levels. In the historic Northwood Village, Culture Lab is an innovative art space for emerging artists and experimental art forms.
Every February, West Palm Beach organizes the Street Painting Festival, one of the largest outdoor art events in the region. Artists create incredible chalk masterpieces on the streets, and visitors enjoy live music, food, and interactive activities.
Enjoy a fun day of shopping? Clematis Street and CityPlace are the local centers for browsing homegrown boutiques and high-end name brands. Both balance out the retail store collection with delicious restaurants and an energetic nightlife scene.
West Palm Beach also delivers on quality of lifestyle essentials, with several reputable healthcare facilities and educational institutions, such as Palm Beach Atlantic University.
Is West Palm Beach, FL growing?
West Palm Beach had around 114,000 residents as of 2021. It's part of Palm Beach County, a region that continues expanding. The 2021 US Census estimates almost 1.5 million people call Palm Beach County home. The county projects West Palm Beach will have about 135,000 residents by 2030, which will put more pressure on its housing market.
What is West Palm Beach's cost of living?
Not quite the Florida coastline, but still a high-demand area near the Atlantic beachfront, West Palm Beach's overall living costs are above Florida and national rates. Interestingly, housing is only 2% more expensive than nationwide averages. It's spending on transportation that drives the prices up. You'll pay 27% more to get around town than in other cities and places in Florida. Much of that has to do with the area's congestion.
Overall, you'll pay more in almost every spending category except for utilities, but most of the rates are in line with Florida averages.
What is West Palm Beach, FL, real estate like?
West Palm Beach is a large South Florida community, even if it's not as big as Fort Lauderdale or Miami. There's still a lot of real estate and ground to cover, which can be a little daunting for the prospective homebuyer. West Palm Beach had 37 recognized neighborhoods with over 2,000 listings in May 2023.
Using this timeframe as a snapshot for the area's real estate market, the median list price was $422,000, 12.7% more than the prior year. The median price per square foot came in at $292.
The available list prices range from $10,000 to $30.6M. On the affordable end was an RV in a mobile home park. On the high end, that $30.6M was a new construction 24th-floor (of 25) luxury condo unit on the waterfront with 9,000 sq ft of living space and a three-car private garage.
Are there condos or townhomes in West Palm Beach, FL?
As West Palm Beach began as a retirement and winter resort destination, the condo and townhome market is thriving here. But you don't have to be retiring to appreciate the charms of maintenance-free living. These properties and their perks are for anyone.
May 2023 had just over 1,000 condo or townhome properties available, representing almost half of the available real estate in West Palm Beach. On the low end was $50,000 for a 684-square-foot unit. The highest price was for the luxury condo listed above.
West Palm Beach neighborhoods
With so much ground to cover, where are the best places to live in West Palm Beach? That answer will have to do with your personal preferences, but to help accelerate your home search, here are a few popular places that homebuyers are looking at.
Northwood
Historic homes can certainly be charming. The Northwood neighborhood is a great place to start if you want to blend your Florida lifestyle with a slice of history. This community is known for its charming bungalow-style homes and how close it is to West Palm Beach's art district.
Northwood primarily developed around the 1920s, bordering the intercoastal waterway to the east. The waterfront section is known as "Old Northwood" and has over 300 historic structures.
Besides the mission-style homes, Northwood has a great living atmosphere with neighborhood associations that organize block parties and social gatherings. Old Northwood has a clubhouse, two parks, and a marina. For shopping, try the Northwood Village District, whose colorful storefronts are home to vintage clothing shops and art galleries.
Old Northwood had 33 homes for sale in May 2023, with a median price range of $1.2 million. Northwoods Shores had a median price of $1.24 million.
El Cid
Something is charming about the El Cid neighborhood. Like other historic West Palm Beach communities, it was built in the 1920s but has a slightly different architectural flair. The Spanish and Mediterranean influences are clear in the arches, tile roofing, and decorative accents.
El Cid was originally a pineapple plantation that didn't last long. With the coming of the Flagler railroad, El Cid developed in the late 1800s into a getaway neighborhood.
Near El Cid is Flamingo Park, a popular place for residents to enjoy the tropical Florida weather. The Intracoastal waterway forms the eastern border, so this is an option for waterfront living. The promenade along Flagler Drive is popular for fitting in a daily run or bike ride.
For shopping, a strip mall with service-oriented shops and some restaurants is just northwest of El Cid. Two golf courses are on either side of the waterway, making it easy to squeeze in a morning round on the fairways.
El Cid had nine homes for sale at a median price of $4.63 million. The homes range from $1.9 million to $24.9 million.
Flamingo Park
Even if you decide this is not the right neighborhood for you, you'll probably hear about Flamingo Park when you come to West Palm Beach. This is an eclectic and historic neighborhood with a great location to downtown and a cool mix of historic homes.
Residents can quickly head to The Square, the downtown West Palm Beach destination for shopping and dining. And the namesake Flamingo Park is a beautiful place for tossing the frisbee or picnicking under the banyan trees.
One unique aspect of Flamingo Park is how it sits on a coastal ridge. It's actually one of the highest landforms between downtown West Palm Beach and Miami. The people lucky enough to live here may actually have city and ocean views due to their elevation.
Flamingo Park's architecture is a mixture of Art Deco, Mediterranean, and Mission styles dating to the 1920s. It's clear these homes have been lovingly cared for, but they've also been upgraded to have more energy-efficient features and amenities that the modern home buyer wants. Nonetheless, nearly 500 structures are part of the National Register of Historic Places, so if you buy here, you may need to renovate within specific guidelines. Flamingo Park does have a neighborhood association.
The home prices here were at a median of $1.29 million as of May 2023, with 16 homes on the market.
Grandview Heights
Do you want to live close to The Square or the waterfront? Grandview Heights is another option for near-downtown West Palm Beach living. Location is a definite advantage to living here. Residents can walk to CityPlace shopping or the Norton Museum of Art if they feel like it.
This historic section of town is a quiet neighborhood, but that doesn't mean there aren't things to do. Just south of the Convention Center, Howard Park is a place for jogging, playing tennis, or listening to a summer outdoor concert. And Grandview has a cool food hall in the Grandview Public Market.
Like the other historic neighborhoods, Grandview Heights has homes dating to the 1920s. You'll see these homes have Spanish, Craftsman, and bungalow influences.
South End/Soso
The formal name is South End, but locals know it as SSso, as in "South of Southern." As you might expect, SoSo is south of downtown, but it has some great perks that make it popular with different homebuyers.
Eight miles of SoSo run along the Intracoastal, so living here can provide easy access to the Intracoastal Waterway. Summa Beach Park is SoSo's waterfront park and even has a white sand strip, but you can stroll down the sidewalks of Flagler Drive whenever you want to be near the water.
Other perks include being near the Palm Beach Par 3 Golf course and the Cox Science Center & Aquarium. Even though you're south of downtown, a 5-to-10-minute drive can get you to its art galleries, shops, interstate, or airport.
The closer you get to the waterfront, the more the housing prices will increase. Homes on Flagler Drive face the beautiful waters and may own dock space. However, you can find more reasonably priced homes by heading inland a few blocks.
Architecturally, you're going to find a lot of diversity. Some of the older homes were built in the 1950s. You'll find some mid-century-style ranch houses just blocks from opulent mansions. There's also some construction occasionally happening in the neighborhood, whether a deep renovation or a completely new home.
May 2023 had 117 homes for sale at a median price of $1.79 million. The prices range from $385,000 to $22.3 million.
Banyan Cay
We don't want you to think that all West Palm Beach is old real estate. There's plenty of new construction happening, too. An example is the Banyan Cay development in northern West Palm Beach.
Designed around the Banyan Cay Resort and Golf Club, the residences are built with high-end features, pools, and two-car garages. Residents have access to the Jack Nicklaus-designed championship course and clubhouse. Hyatt operates the resort amenities, including a fitness center, spa, and resort-style swimming pool.
Residents have easy access to I-95 outside the community to get around West Palm Beach. Tanger Outlets shopping mall is just south of the resort and has a full selection of national chains.
Riverwalk of the Palm Beaches
Another newer construction option is the luxury master-planned subdivision of Riverwalk. This is a waterfront gated community that surrounds a lakefront.
The community intends to be resort-style, with an incredible list of amenities around its Town Center. This includes three heated swimming pools, lighted tennis courts, and an extensive network of pedestrian pathways. Riverwalk also has an HOA responsible for hosting social events.
If what you're looking for is not inside the community, just outside the gates of waits, the Lake Point Shopping Center, Emerald Dunes Country Club, and Grassy Waters Preserve.
Plans call for 1,347 homes with luxurious features, swimming pools, screened Florida rooms, patios, and two-car garages. In May 2023, home prices were at a median of $472,000, with 19 homes for sale.
Villages of Palm Beach Lakes
Over 10,000 people call this community home. With development kicking off in 1983, the focus of the Villages of Palm Beach Lakes was midsize homes for people at all stages of life.
Because it is so large, the Villages has 36 sub-neighborhoods. The Villages of Palm Beach Lakes does have a property owners association that oversees the common grounds and amenities. These include three parks, saltwater pools, exercise trails, playgrounds, tennis courts, and sports fields.
Living in West Palm Beach
Perhaps life in West Palm Beach sounds perfect to you. In that case, why not contact a local real estate agent who can give you more up-to-date and insightful information on where to look in this groovy part of south Florida? And if you're not sure, why not check out some other great places to live in Palm Beach County?