8 Best Places to Live in Smyrna, GA
Posted by Preston Guyton on Friday, August 5, 2022 at 1:21 AM
By Preston Guyton / August 5, 2022
Comment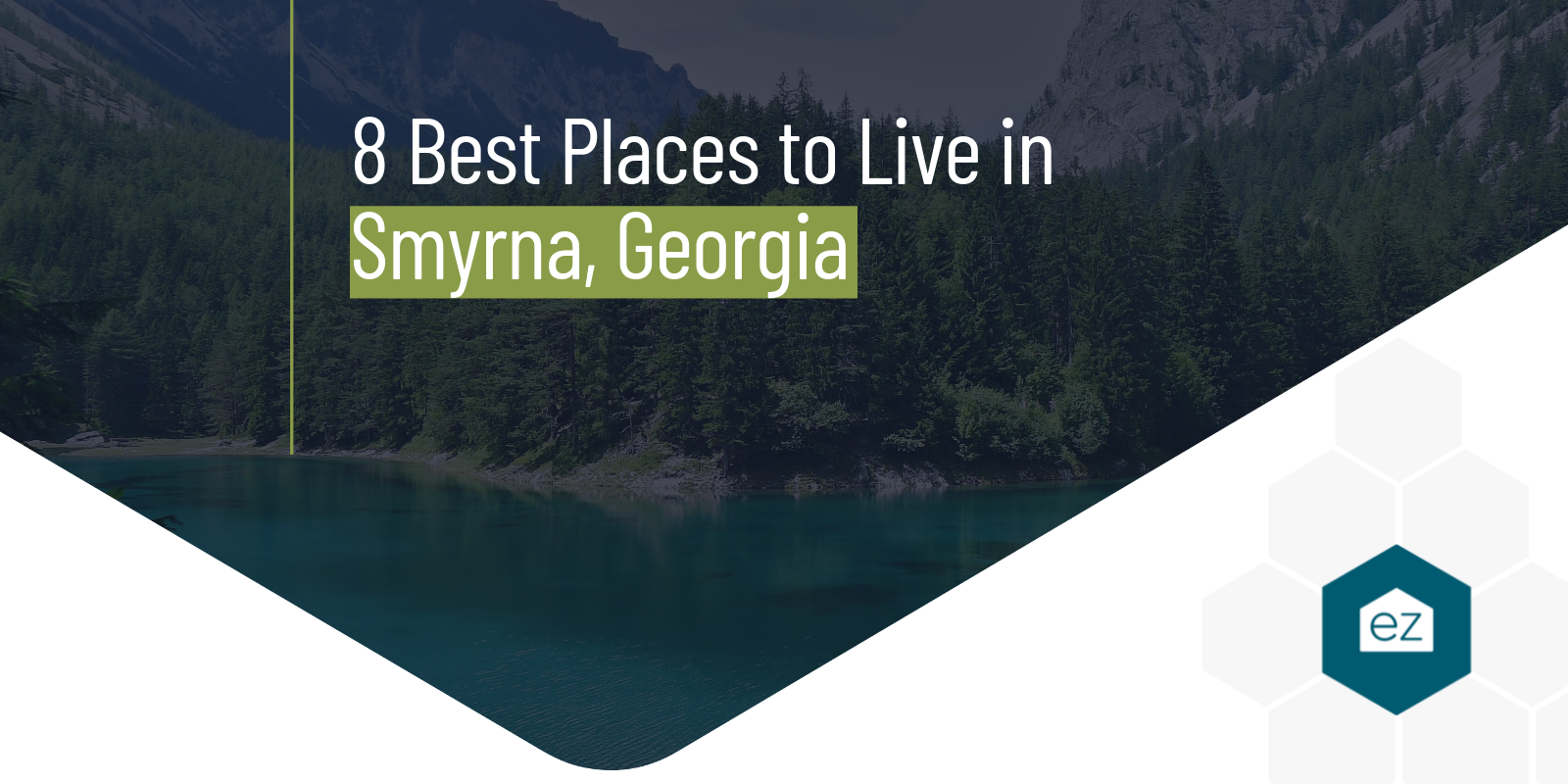 8 Best Places to Live in Smyrna, GA
Smyrna, GA, has repeatedly been voted as one of the best places to live in Georgia. Urban Land Institute honored the "Jonquil City" with its prestigious Award of Excellence for its long-term urban planning and amenity-rich lifestyle. Whether you are looking to settle down and raise a family, to get your career going as a young professional, or to settle down as a retiree, this city offers the amenities you need for an enriching lifestyle.
This town is a booming regional center with a rich history only 16 miles northwest of Atlanta. The revitalized downtown and charming neighborhoods create an enriched community spirit. If you are interested in moving to Smyrna, start your home search with our top 8 places to live.
Why live in Smyrna, GA?
In the 1830s, a small religious center sprung up in Georgia and attracted the attention of both religious enthusiasts and tourists alike. They named the campground Smyrna after a city in the Bible's Book of Revelations. General Sherman's forces engaged in two battles during the Civil War in the town area.
The railroad brought development, although the town remained primarily agrarian for a long time. Smyrna chartered as a town in 1872. The post-World War II period was a time of more rapid growth in the town, especially with the nearby aviation industry taking flight. An aggressive urban renewal plan was enacted starting in the 1980s that laid the groundwork for the modern, progressive Smyrna we see today.
Here are the top reasons why you might want to consider living in Smyrna:
Scenery and weather
Smyrna is easily one of the most charming cities in Georgia with an atmospheric appeal that makes it easy for visitors and residents to fall in love with the area.
Known as the Jonquil City, Smyrna derives this name from the thousands of jonquils that bloom within the city in the spring. It also has a perfect mixture of scenic nature, hills, valleys, paved streets, and roadside gardens.
Its favorable and warm climate averages 53 inches of rain, one inch of snow, a summer high temperature of 88F degrees, and a winter low temperature of 32F degrees every year.
Activities and attractions
Smyrna has an endless amount of activities. The best places to have fun in the city are Village Green and Market Village, located downtown. Village Green consists of the Community Center and Library, while Market Village has a scattering of amazing restaurants, shops, condos, and walkways, making both places ideal for lovers of all kinds of activities.
Other nice places to visit are West Village, Vikings Jubilee, and Cumberland Mall. If you are a hiker or cyclist, the 61-mile Silver Comet Trail gives you ample opportunity to experience nature.
Smyrna's most popular event is the Jonquil Festival, held twice a year in the spring and fall, showcases local artisans while providing music, food, and games. The fall festival often has a Halloween parade.
Educational System
Schools in Smyrna fall under the Cobb County School District, known for the exceptional learning opportunities it offers to children of all age grades. Public schools in the area include:
Wheeler High School
Campbell High School
King Springs Elementary
Teasley Elementary, and
Griffin Middle School.
US News and World Report ranked 13 of Cobb's public high schools among the top 40% in the nation in 2022. Two of them were in the top ten for all of Georgia. The state of Georgia last rated the Cobb County School District an overall "B" in 2019.
Private schools include Covenant Christian School and Center Academy of Smyrna. Fortis College, a private for-profit two-year college, is the only institution offering higher education, mainly for the medical and technology sectors.
Accessibility and location
Smyrna is strategically located close to three major highway systems: I-75, I-20, and I-285. It is easy to commute in and out of the city. A large percentage of Smyrna residents work in Atlanta, and they get to work either by taking their cars or mass transit. Four airports, two railway systems, and several major roadways make it easy to get around.
Downtown Atlanta is a 15-minute drive away and the Hartsfield International Airport is a 30-minute drive away. Other upscale cities such as Marietta and Sandy Springs are within 15 miles.
One of the best things about Smyrna is that it is close enough to the state capital to cater to residents' needs, but is far enough to avoid the daily hustle and bustle of the Atlanta metro.
Job opportunities
Smyrna is one of the best cities in Georgia for young professionals to live and work in, because of the wide range of job opportunities it offers. For a small city, the number of big businesses and brands that have offices in Smyrna can be surprising.
Some of the top employers include United Distributors, Amazon, GLOCK, Union Chimique Belge (UCB), International Business Machines Corporation (IBM), and Crown Bakeries.
About the Smyrna real estate market
The real estate market in Smyrna offers a range of homes, from old historic buildings to modern apartment buildings, lofts, duplexes, condominiums, and mixed-use properties. With 439 homes on the market, the median listing price of homes in June 2022 was $455,000, while the median sold price of homes was $458,000. Prices showed an increase of almost 14% over the past year.
Prices ranged from $61,000 to $2.1 million.
The 2022 market in Smyrna, GA, leaned towards sellers because there is a higher demand for homes than supply.
What are the best places to live in Smyrna?
Williams Park
Williams Park is the oldest neighborhood in the city and has a highly traditional appeal. This part of Smyrna offers lots of housing options, including Craftsman and Victorian-style homes, lofts, and other mixed-use properties such as buildings with shops on the down floor and living quarters on the upper floors. Some of the oldest houses in Smyrna are here with 23 built before World War II.
This neighborhood is close to many shops and restaurants. For some residents, they are walking distance from downtown Smyrna and its amenities. The neighbors are friendly and close-knit, and through the Williams Park Neighborhood Association, hold many social activities together, such as a yearly garage sale and fall festival.
Living in Williams Park provides the perfect mixture of sweet, olden days vibes and an urban atmosphere making it ideal for people who long for a quiet and leisurely life.
Vinings Estates
Vinings Estates is a large Smyrna neighborhood that was built between 1997 and 2007 by John Wieland Homes. It consists of large homes surrounded by woods and hills, which is why it is often described as a "wooded retreat." The area breaks down into sub-neighborhoods, such as The Gates, Ivy Walk, and Mosaic.
The layout of this neighborhood makes it a comfortable and beautiful place to live in. Some of the amenities residents enjoy include a fitness center, swimming pools, clubhouses, tennis courts, and playgrounds for kids. Social life includes an easter egg hunt and a neighborhood swim team.
Real estate list prices ranged widely from $399,000 to $995,000 in July 2022.
Forest Hills
Just as the name implies, this neighborhood is filled with lots of trees which give it a tranquil atmosphere. It consists of lots of houses of sizes and styles, ranging from ranch homes of the 1950s to more modern constructions.
Forest Hills is quite close to downtown, making it easy for its residents to access the Market Village, as well as Tolleson Park which has a swimming pool and tennis court. The neighbors in this community carry out lots of social activities together, including festivals and games.
Its prime location and tranquil atmosphere makes it one of the most desirable places to live in Smyrna. One listing was available in July 2022 for $629,000.
Smyrna Heights
Home to almost 400 houses, Smyrna Heights is another large neighborhood within walking distance of downtown. This community is surrounded by two public parks with facilities, swimming pools, walking trails, tennis courts, and ball fields, thus sufficiently catering to the needs of residents of all age groups.
Locals describe Smyrna Heights as a homey neighborhood filled with friendly neighbors and an active lifestyle. In July 2022, it had three listings ranging from $279,000 to $429,000 in price.
Market Village
Market Village is a mixed-use neighborhood primarily with townhome living emphasizing a pedestrian lifestyle. The commercial side has 18,000 sq ft of office space plus has an array of restaurants, shops, and other fun things to do. This area is always bustling with music and special events, so make sure to be prepared for the excitement if you plan on living here.
Bennett Woods
Bennett Woods is home to over 300 houses, most of which were built between 1960 and 1980 and tend to follow brick ranch-style architecture. Its location is close to the Silver Comet Trail and the Smyrna Community Garden at North Cooper Lake Park.
In July 2022, there were two listings from $499,000 to $625,000.
Fontaine at Cooper Lake
This community consists of about 60 homes built around Cooper Lake, most of which have lake views. Location is this community's main advantage, as it is strategically located close to the 1-285, the Silver Comet Trail, and only a short distance away from the restaurants and shops downtown.
In-neighborhood amenities include a swimming pool with available cabanas.
Ennisbrook
Ennisbrook is a popular gated neighborhood that is only a few minutes away from the Smyrna Market Village. Divided into two sections–the Woodlands and Highlands– it is a swim-tennis community that centers around a luxurious clubhouse, swimming pool, basketball court, tennis courts, and walking trails.
The development totals 98 homes mostly developed at the turn of the millennium. Architecturally, they favor traditional and rustic styles. Five homes were on the market in July 2022, ranging from $465,000 to $566,000.
Living in Smyrna, GA
Smyrna's beautiful neighborhoods offer residents ample activities and amenities. Combined with great access to downtown Atlanta, other major suburbs, and three major highways, Smyrna makes it easy to set up the lifestyle you want.
Even more outstanding neighborhoods are available. If you are considering moving to Smyrna, contact a local real estate agent to assist you in your search for the right neighborhood.