7 Ways to Spot a Rental Scammer & Make Sure a Rental Property Is Legit
Posted by Ashley Daniels on Friday, February 5, 2021 at 2:13 PM
By Ashley Daniels / February 5, 2021
Comment
How to Spot a Rental Scammer and Check to Make Sure a Rental Property is Legit
We all rely on the Internet for our home and rental searches, of course, but it's vital to be aware that not all listings are what they seem.
In fact, a survey done by Apartment List reported that 43 percent of online apartment shoppers came across a fake listing, with 5.2 million people (mostly between the age of 19 to 29) in the United States losing money to rental scams. And, out of those scam victims, the median loss was $400 – but nearly 18 percent lost more than $2,000!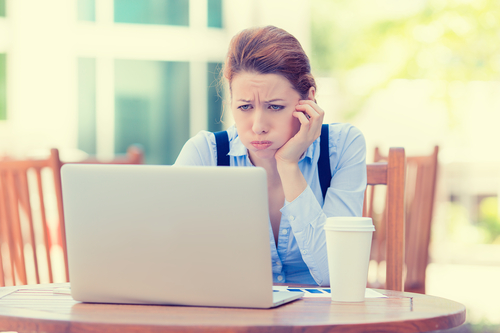 To avoid becoming one of these statistics, we advise that you first rely on reputable online housing sources, like Rent.com, to apartment hunt. Second, take notes on the research and tips we're about to give you that will heighten your radar in detecting potential scams during this sometimes complicated search process.
Too Good to Be True
Red flag #1 is, as the saying goes, if the price looks too good to be true, it probably is. Unfortunately. Ask yourself if the rent listed is a lot less than other comparable rentals in the area. If so, you could be witnessing a potential scam. According to the FTC, these criminals often lure renters in with a monthly rent rate that's way below the market price. Once the victims take the bait, they're pressured to send money immediately – apartment unseen – by wire transfer, cash or gift cards. This is a no-no. Wiring money is like sending cash and can't be traced or reversed. Instead, do your research for the communities you're moving into so you proceed with caution by knowing the average rental rates.
Bad Grammar
If the online rental listing/ad is poorly written, keep scrolling. Beware of typos, poor grammar, misspellings, low-quality photos, excessive punctuation or incomplete info, like an actual address. Serious landlords or property managers would always take the time to write an error-free listing to represent their professional marketing skills. It's the best way to make a first impression on the Internet amidst viable renters. Scammers' listings will showcase the exact opposite, with signs that English might not be their first language.
Copied Listings & the Middleman Scam
This is one of the most common scam schemes – especially on classified sites, like Craigslist. If you land on a perfectly worded listing at the most amazing price, call the number listed and talk to someone who says they're managing the apartment for the real owners, don't fall for the trap. Scam artists will often copy listing details from a legit real estate platform and create their scam listing at a lower price. So, it may be a real place, but not the real person. On top of that, the scammer will try to convince you that they've had such a high volume in interested renters, that you'll need to make a deposit (sometimes even first and last month payments) immediately to reserve your "dream" apartment – without a live or virtual tour. One study on Craiglist rental scams reported there were nearly 29,000 scam listings within the 20 cities monitored within a little more than 100 days. The best way to avoid it: Make sure you've seen the apartment, either in person or virtually before you pay anything.
Expensive Background Checks or No Screening Process
While it's common protocol for landlords to conduct a background check on all potential renters before becoming a tenant, be leery if the price is more than $30-$60. Never hand over cash without consulting a reliable real estate agent if you're skeptical of the situation. On the other hand, you should also be suspicious if a landlord doesn't require a background check or screening process at all. It could be a scam.
No Written or an Incomplete Lease Agreement
Never rent an apartment before signing official lease documents. This is for your protection, as well as for the landlord, so without it, it could be rental fraud. Rental scam risks, like remote signing and limited interactions, are on the increase during Covid-19; be on your guard. When the landlord does produce the lease contract, make sure the actual homeowner name is listed and signed and that you sign and receive a copy of the contract, not just the landlord.
They Don't Want To Meet In Person or You Can't See the Property Before Signing
If a landlord or property manager claims he/she cannot meet you in person to show the property, don't go any further with this listing. A good landlord would want to meet you in person to get their impression of you and whether or not they can trust. On that same front, scammers don't want you to meet in person, so you can't report them. They'll often say they're out of town or in the military to avoid the meeting.
You Can't Identify the Owner of The Property
Similar to the above, it's imperative that you see all documents that actually identifies the true homeowner before signing the lease agreement, so you know for sure you dealing with a person that has the legitimate rights to rent out the unit. A real homeowner would have no reason to not show you the documents. If something seems fishy, trust your instincts.
What to Do If You Are a Victim of a Rental Fraud Scam
Call the Federal Trade Commission Consumer Response Center at 1-877-FTC-HELP or fill in an FTC complaint form at https://reportfraud.ftc.gov/#/.
File a complaint with the Internet Crime Complaint Center at https://www.ic3.gov/.
Call the police and report all the details of your case.
Seek legal counsel that specializes in this form of law.
Leave a negative review to quickly make others aware and protect them from this scammer.