7 Safety Hazards to Prevent in the Home
Posted by Ashley Daniels on Thursday, January 28, 2021 at 2:05 PM
By Ashley Daniels / January 28, 2021
Comment
We've all been in our homes more often than ever before, which is why safety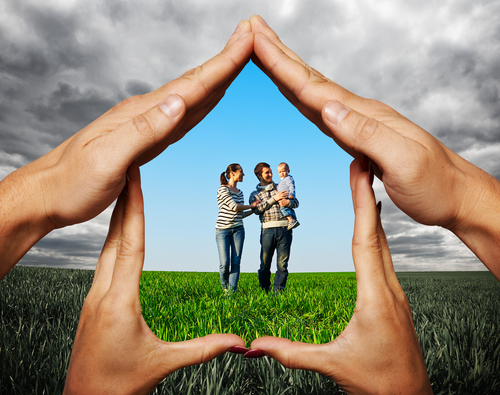 should be a priority for you and your family living under one roof. In addition to all the comforts of home, there also hazards you may not have thought of that you'll want to avoid in you happy home life. To stay out of harm's way in your home sweet home, follow this handful of handy tips:
Protect Yourself from Sharp Objects
Unfortunately, there are sharp edges inside and outside the home, including knives and peelers in the kitchen, scissors in your home office, and razors and nail clippers in the bathroom. Outside, there are a host of potential hazards, like lawn mowers, lawn tools, saws, power tools and more in the garage or shed. To avoid cuts, make sure all of these sharp objects are put up and away after each use, with child safety locks placed on drawers and cabinet doors where needed. Even open food cans could cut like a knife, so make sure your trash can lid is closed – maybe even purchase a kitchen garbage can with a lid that automatically closes to ensure safety for the kiddos. And, when you're loading the dishwasher, point knives and forks down in the utensil basket for added safety.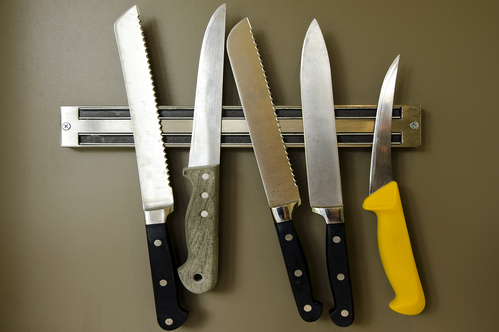 Prevent Trips and Falls
Accidents happen, but there are ways to reduce the risk of trips and falls. That said, 1 in 5 older adults who falls suffers a broken bone or head injury from the result of wet floors, slick stairs or scattered toys on the floor. Here's what we suggest to combat these common household hazards: Stabilize staircases by making sure handrails are installed; secure flooring or make sure any mats or rugs are flat; mount a safety gate if you have small children and a flight of stairs; clear indoor and outdoor steps of toys and debris, like ice and snow; cover slippery surfaces on bathroom floors with rugs and in the bathtub with non-slip stickers; and install safety rails in showers or bathtubs to support older family members.
Safely Store Chemicals
There were more than 2 million poisoning incidents reported to poison control centers across the United States in 2018. The culprit? Cleaning and home maintenance supplies, paint, personal care products, detergents and medications. With a little know-how, you can decrease the chance of accidental poisonings by keeping all of these household items out of reach, safely stored in a cabinet with a child safety lock, if needed. Both over-the-counter and prescription medication shouldn't be left out on the counter and should be thrown away if unused. More tips: never put paint in a container other than the paint can to avoid children mistaking it for something else and keep your detergent pods in the container (many of these now have child safety lids and zippers).
Stop Fires and Burns
There were more than 363,000 home fires, from mild smoke damage to total home loss, and 3,655 lives lost in 2018. To prevent devastation like this, some simple preventions can be followed, such as: not letting lit candles or a steam iron unattended or near curtains or blankets; installing fire alarms throughout your home and changing the batteries each year (at least); keep at least one fire extinguisher in your home; inspect electrical appliance cords for any fraying and unplug those that aren't in use; and make sure your dryer vents are cleaned regularly to avoid lint build-up. Precautions against burns, which mostly happen in the kitchen when you're using the dishwasher or stove include making sure your dishwasher door is securely latched to avoid access to any steam; use the back burners of your stove to prevent any accidental touches of a hot pot or pan (and turn off all stovetop burners immediately after use), and keep any tempting cookies or toys off the stovetop – even when it's not in use.
Install Carbon Monoxide Detectors
Carbon monoxide, the silent killer, can affect your family even at low levels, leading to headaches and dizziness. It could be life-saving to install a carbon monoxide detector to alert everyone in the home if the air is becoming dangerous – before it's too late. To prevent CO leaks, hire a professional annually to inspect your water heater, HVAC system and other gas appliances. If you're buying an older home, have a professional inspect these same areas before you close on the sale. And, for added peace of mind, you can purchase a detector that plugs into an electrical outlet at an affordable price; combo smoke and carbon monoxide detectors cover both dangers.
No Choking!
Did you know that choking is the fourth largest cause of accidental deaths in the United States, with more than 5,000 deaths in 2015? In the home, prevention starts with inspecting toys for loose parts and clearing the floor of small items, like Legos or marbles. In the kitchen, be sure to keep choking hazard foods, like hard nuts or candies, out of reach. Cut up into small bites hard and round foods that could block little ones' airways, like grapes, cherry tomatoes and hot dogs. It's always a good idea to have a baby monitor on-hand to check in for signs of choking if toddlers are playing in the next room.
Stop the Strangling
A persistent strangling hazard for young ones are cords on blinds and curtains. Never place a crib or toddler bed near a window with those dangling cords; and, if you use an extension cord, put it away and out of reach after it's no longer needed. Also, to be safe, either trim the window cords to a length only adults can reach or install blind cord wraps.
Yes, these hazards have the potential to cause harm, but if you are diligent and follow our tips, they can easily be avoided.