7 Best Places to Live in Greer, SC
Posted by Preston Guyton on Saturday, July 9, 2022 at 8:46 AM
By Preston Guyton / July 9, 2022
Comment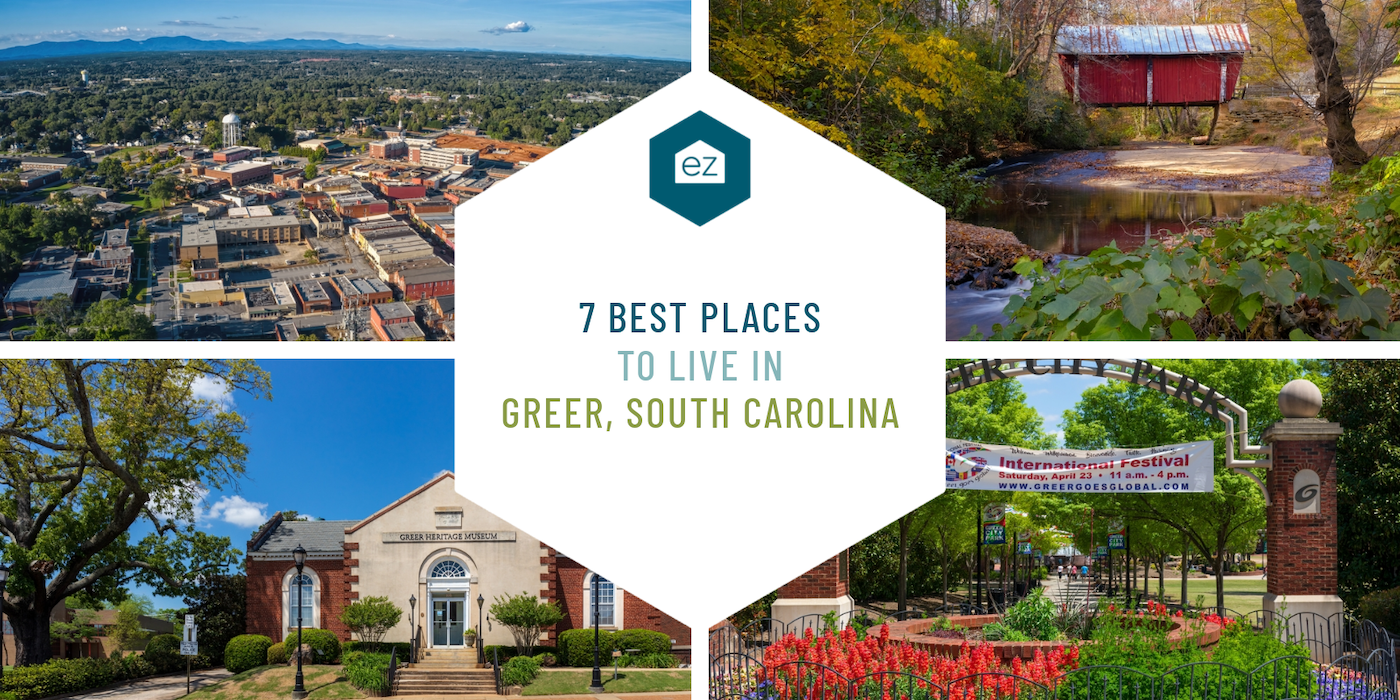 7 Best Places to Live in Greer, SC
Greer is an exemplary place to call home and operate your business in Upstate South Carolina. With a thriving historic downtown area complete with unique restaurants, parks, and activities, this city shouldn't be skipped over. Plus, Greer sits between Spartanburg and Greenville. Locals have quick access to both places, plus all Greer has to offer with an easy drive no matter where they choose to go.
Are you interested in moving to Greer? Learn more about living in this part of the Upstate and what kind of lifestyle the locals have. Start your home search with seven of the best places to live in Greer.
Why live in Greer, SC
Greer is a thriving city with many advantages for its residents. Much of the local activity is concentrated around Trade Street in the historic downtown area. It's a walkable and family-friendly downtown area with boutique coffee shops, museums, a park with fountains, and a playground. Kids will love the Toads on Trade Scavenger Hunt. Festivals happen year-round, including a charming holiday light display.
In terms of activities, Greer keeps its residents busy. The Saturday morning Farmer's Market has over 35 local vendors selling products from fresh produce to handmade jewelry. The park often hosts food trucks on Friday evenings. Moonlight Movies run throughout the summer at the park amphitheater. The annual Arts and Eats festival is free and a huge visitor draw.
At nearby BMW Zentrum, visitors learn about the car maker's history and can take a tour of the automobile plant.
Enjoy beautiful views of the rolling countryside from one of Greer's parks. Greer City Park is the largest, with a playground, walking trails, and an amphitheater. Riverside Park is on the Reedy River and has a splash pad for kids to enjoy. Lake Robinson is a manmade lake popular for fishing, swimming, and kayaking.
Greer is zoned for excellent schools. The top-rated schools are Buena Vista Elementary School, Greer Middle School, and Riverside High School.
The Greenville Health System, BMW, and Mitsubishi Polyester Film are top local employers.
When you want to get away, Greer is a short drive from Spartanburg and Greenville, so residents can access even more lifestyle amenities, attractions, and employment opportunities. This includes children's museums, water parks, craft breweries, and universities.
If you're looking for a place to call home in South Carolina that has an enriching lifestyle, Greer is a great choice! You can select from downtown living to a more rural homestead. Here are a few of the best places to live in Greer.
What are the best places to live in Greer?
Gilder Creek Farm
Gilder Creek Farm is a four-section neighborhood with 378 homes. One charming detail is all Gilder Creek Farm's street names are connected to apples. Residents of Gilder Creek Farm can enjoy safe, well-lit roadways, walking trails, and a community center with a clubhouse and junior Olympic-sized pool. Around 64 acres of green space along the Gilder Creek are reserved for resident use. A board of directors oversees the community activities and works to improve the area.
The four neighborhoods are The Meadows, the Oaks, The Glen, and the Valley. They were predominately developed in the 2000s ranging from 1,600 sq ft to 4,000 sq ft. The styles range widely but often feature two-car garages, porches, and shuttered windows.
Pelham Falls
Pelham Falls is a mature neighborhood on rolling hills near the Enoree River. The area stretches along a secluded river walk. A mile-long path also contains an incredible variety of wildlife, a sandy beach, natural rock outcroppings, waterfalls, sluices, and calm, pond-like areas.
The community's amenities include walking trails, a playground, a soccer field, tennis courts, a basketball court, and two swimming pools. A local swim team is available.
Homes in Pelham Falls are crafted with the environment in mind. The builders wanted to ensure that the area's natural beauty was preserved as much as possible.
The 400+ homes in Pelham Falls developed in the 1980s range in size from 2,000 to 3,900 square feet. They feature open floor plans, hardwood floors, and large kitchens perfect for entertaining guests. Styles include Tudor and Traditional with porches. There are cul-de-sacs and tree-lined streets. Some residents have views of the Enoree River.
The Woodlands at Walnut Creek
The Woodlands at Walnut Creek is an upscale Greer neighborhood near Lake Robinson off Highway 101. The Woodlands at Walnut Creek is a newer development with new construction homes available in its Phase 2 section during 2022. Homes tend to have a Craftsman-inspired look.
Sugar Creek
Sugar Creek is a quiet Greer neighborhood with over 800 homes divided into three neighborhoods. The community is conveniently in the popular Eastside area with easy access to the Interstate system and local shopping centers.
Each community has its own playground, tennis complex, and clubhouse. Two swim teams are available.
There are a variety of architectural styles, but the design leans on older traditional-style homes with exteriors of brick and stone, spacious open floor plans, and front porches. Each community has covenant restrictions to preserve the local character.
Thornblade
Thornblade is an award-winning Greer neighborhood located off Highway 14 near BMW. The community is made up of 370 homes built by custom home builders. Thornblade was developed with families in mind and features a country-club lifestyle.
The Thornblade Club is the centerpiece of the community. It offers members a Tom Fazio-designed championship golf course, tennis courts, an Olympic-sized pool, a clubhouse, and a fitness center. The club also has a full-service restaurant and bar.
Thornblade is located 15 minutes from downtown Greenville, and it offers everything you could desire within a short distance. Hospitals, the airport, banks, cafés, and the mall are all within five miles.
Homes in Thornblade were developed in the late 1980s and range in size from 2,000 sq ft to over 5,000 sq ft. Some subsections are gated; others are not. Various home styles are available, including traditional, Colonial, and Charleston. Around a quarter of the homes have golf course views.
Sugar Mill
Sugar Mill is close to downtown Greer but still has a rural feel. The community features just 136 homes on large lots ranging from a half-acre to one acre. Enjoy amenities such as a seven-acre common ground along the Enoree River, a swimming pool, tennis courts, and a clubhouse.
Sugar Mill was developed in the 1970s and features predominantly traditional-styled homes. Some homes have been updated with modern features, while others maintain their original charm.
The community has several cul-de-sacs and tree-lined streets. It's also adjacent to Greer Heritage Park, which offers residents walking trails, a playground, a fishing pond, and picnic areas.
Brushy Meadows
Brushy Meadows is a mature neighborhood tucked away from the hustle and bustle but still close to all the amenities you need. Made up of just over 200 homes on spacious lots, the community has a swimming pool, tennis courts, and clubhouse.
Brushy Meadows features a mix of traditional and ranch-style homes dating to the 1990s. Find many lots with mature trees and immaculate yards. The walking trails and street lights make it easy to get around.
Living in Greer, SC
From the unique restaurants in the historical downtown area to the parks and activities, there is something for everyone in Greer. Locals enjoy its convenient location and proximity to amenities in Upstate South Carolina. Thanks to its many housing options, Greer is a top choice for those looking to relocate to the Greenville area.
Greer, South Carolina, is a wonderful place to live if you're searching for a low cost of living in a family-friendly neighborhood with beautiful natural surroundings. Let a local real estate agent help your Upstate home search.