5 Cities, Areas to Consider When Planning Your Move to South Carolina
Posted by Ashley Daniels on Wednesday, March 3, 2021 at 3:34 PM
By Ashley Daniels / March 3, 2021
Comment
Lately, the migratory traffic of those moving into South Carolina has been in intense rush hour mode, with the state ranked #2 in the United States in 2020. Why? There are so many reasons, but here are a few:
By the numbers, South Carolina has the seventh lowest effective real estate tax in the country at 0.57%; sales tax ranges from 6% to 9%; and income tax is up to 7%.
Warmer weather is a welcome consistency for about 8 months out of the year. In other words, you live where you vacation!
The cost of living in South Carolina is 7.3% lower than the national average.
The diverse landscape statewide showcases beaches to the east and mountains to the west, which you could technically see within less than a day's drive. And South Carolina definitely takes the great outdoors to the next level, with 47 state parks covering more than 80,000 acres of land.
We've painted the enticing overall picture of South Carolina, and now we'd like to hone in on a handful of areas and cities you should especially consider when you relocate here, out of the many beautiful spots in the state.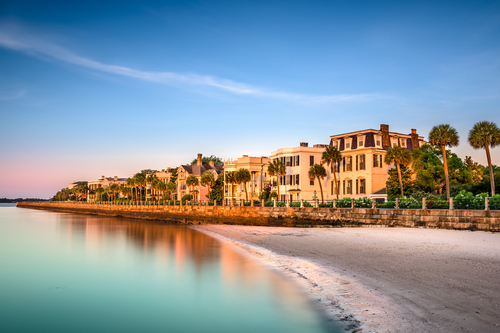 Charleston Area
The Holy City was named Best City in the U.S. by Travel + Leisure magazine from 2016 to 2019, and it's no wonder. Charleston oozes Southern hospitality and charm at every turn of its historic streets, lovely courtyards, and waterfront parks. The city's downtown is the hub of world-renowned restaurants that foodies adore, rooftop bars and designer shopping, as well as a must-visit farmer's market. Then there's all the history to explore by carriage, by foot along the Battery, or by boat to Fort Sumter. But that's just downtown; Charleston also spills out into surrounding quaint neighborhoods and islands that are packed with their own set of bars and restaurants, shopping and historic attractions, such as Mount Pleasant (Patriots Point), North Charleston (The Hunley), Isle of Palms, Folly Beach and these islands: Sullivan's Island, James Island, Johns Island, Kiawah Island and Wadmalaw Island.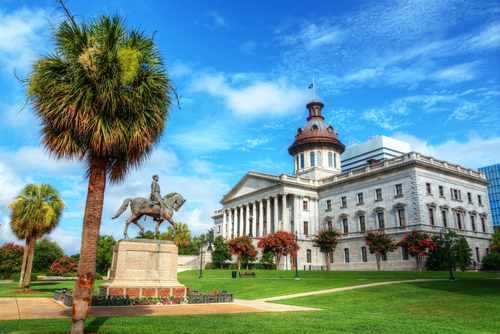 Columbia Area
South Carolina's capital city boasts its own charm surrounding the many historic monuments, state house and grand museums. Columbia itself packs a punch of activity, as home of the South Carolina State Museum, EdVenture children's museum, University of South Carolina, and home of the Columbia Fireflies minor league baseball team. Family fun continues at the nearby Riverbanks Zoo; cool vibes carry on into Five Points, where metro Columbians and the college crowd gathers at bars, restaurants, shops and nightlife. Surrounding suburbs of Columbia that are also prime real estate for relocating include Forest Acres outside Fort Jackson, Seven Oaks, Lexington and the Lake Murray area.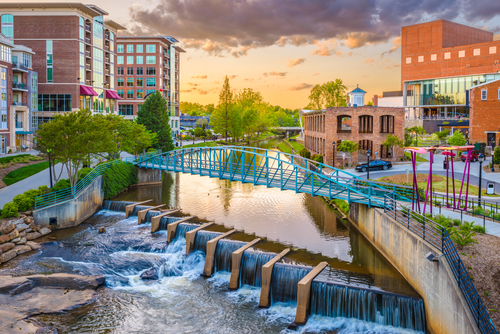 Greenville/Clemson
The west coast of South Carolina is booming as a metro meets nature mecca. Greenville's infamous Falls Park on the Reedy was recently ranked as one of the Top 10 U.S. Parks. It's the hub of downtown, featuring 32 acres and the showpiece Liberty Bridge, the only single-sided, pedestrian-only suspension bridge in the Western Hemisphere that overlooks the breathtaking falls below and the city skyline above. The park also boasts walking trails that connect to Cleveland Park, where amphitheaters, picnic tables, bike trails, tennis courts, softball fields and the Greenville Zoo thrive. Then there's Greenville's award-winning Main Street that stretches from NOMA Square to the city's west end. The charming, tree-lined hotspot is a hub of world-class restaurants, rooftop bars, art studios, boutiques, coffee shops and more. Nearby Clemson, home to Clemson University, is also a fun, walkable college town with so much to offer in prime real estate.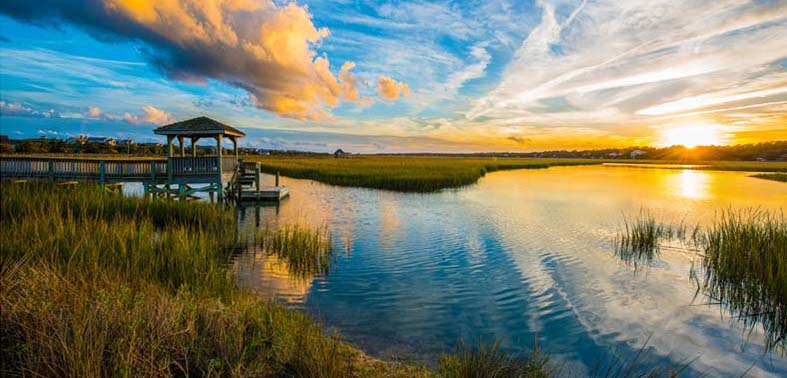 The Grand Strand
The 60 miles of coastline that stretches from Little River south into Georgetown – with North Myrtle Beach, Myrtle Beach, Surfside Beach, Murrells Inlet, and Pawleys Island – is also endearingly referred to as the Grand Strand. There is so much family fun to be had here, from the beach to the Intracoastal Waterway and beyond. Because of its extreme layout of courses big and small, this area is also nicknamed the Golf Capitol and Mini Golf Capitol of the World. Popular bars, restaurants and attractions in Myrtle Beach are centered around the boardwalk, Broadway at the Beach and The Market Common, to name a few. Take a dip further south into Murrells Inlet, where the Marshwalk is lined with popular waterfront seafood restaurants and Brookgreen Gardens is lined with beautiful live oaks and blooms. But there's so much more to see and do if the Grand Strand is your backyard, including theatres, parks and oodles of cozy neighborhoods, just a few of the many reasons this area is quickly becoming one of the most sought-after areas to relocate in the real estate industry.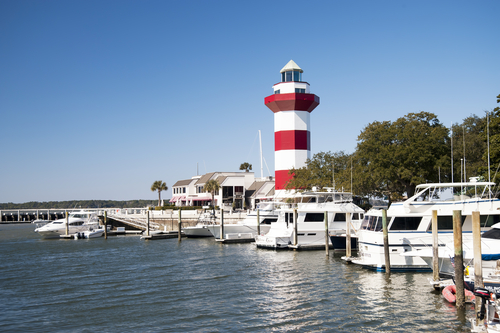 Hilton Head Island/Bluffton/Beaufort
Island life is the way of life for locals and visitors that are flocking Hilton Head Island. Surrounded by 12 miles of beaches, the island is ranked #1 in the U.S. and #2 in the world. Another number to consider with Hilton Head: its 33 golf courses, with one that hosts an annual PGA tourney. Then there's all of the different ways to explore this southern-most slice of land in South Carolina: by bike, by hike, or by boat. You can also tour historical Civil War attractions. Nearby Bluffton and Beaufort also offer neighborhoods loaded with historical charm, antique boutiques, and alfresco dining.