10 Best School Districts in Ohio
Posted by Preston Guyton on Friday, March 17, 2023 at 1:22:41 PM
By Preston Guyton / March 17, 2023
Comment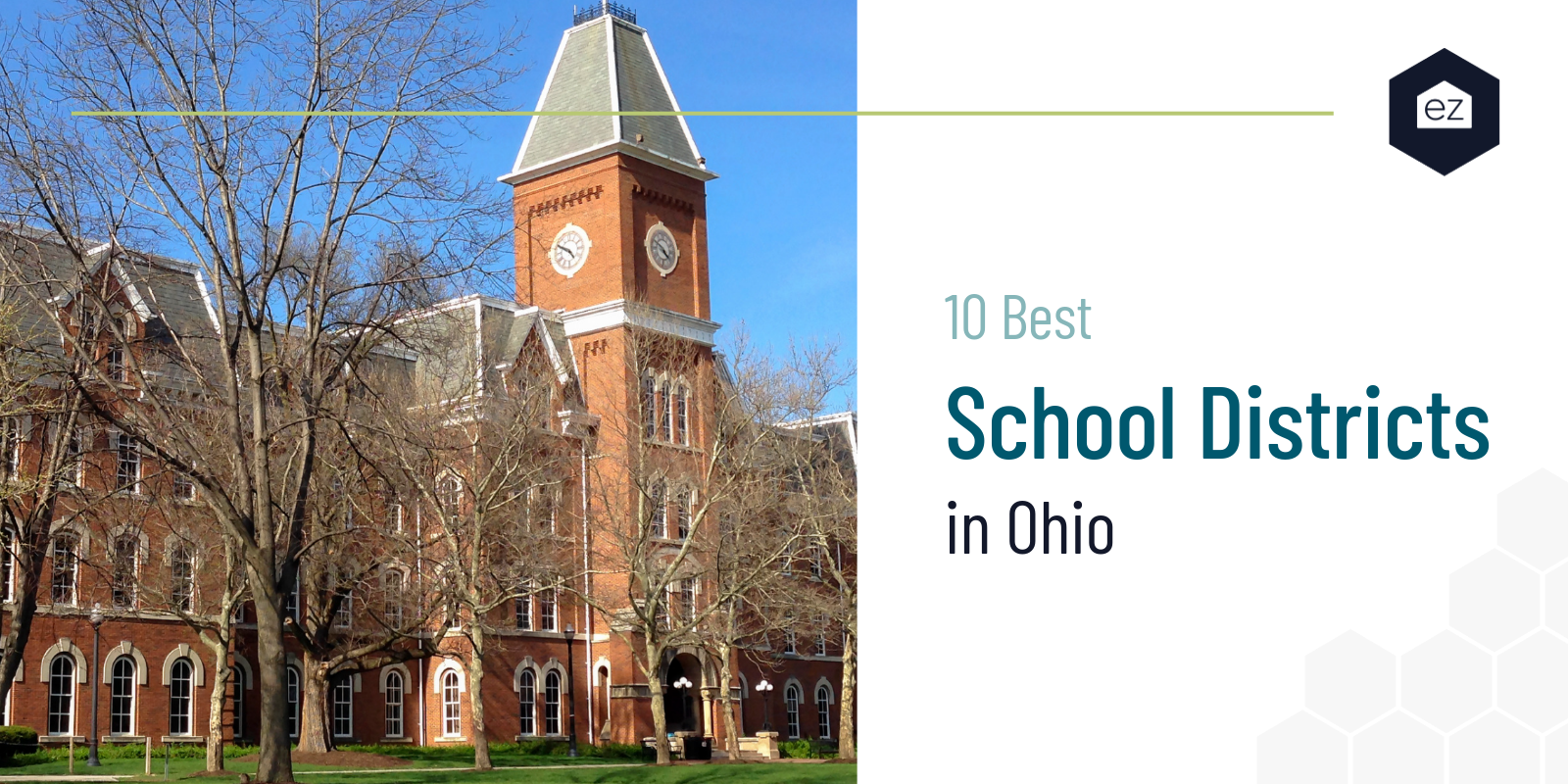 10 Best School Districts in Ohio
Ask someone what they value about where they live, and chances are among the list will be good schools. Access to quality education matters to many of us, and when you have children, you want to give them the best opportunities you can. A well-rounded education is simply part of that.
How our current education system is designed means that not all schools meet the same high standards. It's simply a fact that some measure better than others, with students passing state testing in core subjects, taking challenging courses, graduating high school on time, and having high college acceptance rates.
It's no different in Ohio. Some districts are consistently more high-performing than others. But how do you find those places? We've looked at information from the Ohio Department of Education and independent media sites to find the districts frequently appearing on the top lists. If you're interested in living somewhere in Ohio with access to quality public education, this can be a place to start.
About Ohio's education system
The Ohio Department of Education oversees the public education of 1.7 million students. The system breaks down into independent school districts affiliated with a county, large region, or municipality. This flexibility in running districts has resulted in 611 traditional school districts operating 3,656 schools. Nearly a third were classified as rural districts, while another third were small-town districts. The rest were some degree of suburban or urban.
Ohio does have specialized schools for special needs, vocational schools, and what it calls "community schools," elsewhere known as charter schools. A public voucher system is in place for students to attend private schools. The state recognized 715 chartered private schools as of the 2021-2022 school year.
Overall, Ohio ranks no. 31 for its education, but PreK-12 was no. 20 on US News and World Report. So, Ohio is pretty middle-of-the-road. However, its National Assessment of Education Progress (NAEP) Math and Reading scores place it in the top 10. It's in the middle for college readiness and could improve its high school graduation rate.
The DOE publishes an annual report card at the state and district level. In 2021-22, the student performance metrics were up across the board, although they were still lagging behind pre-pandemic levels. The statewide graduation rate was 87.2%. As for school district report cards, instead of a single summarizing score, it breaks down district scores into categories for achievement, early literacy, graduation, progress, and gap closing. A raw Performance Index School (PIS) also averages the numerical score in each of these categories.
Looking at individual school and district scores plus independent evaluator lists, the districts that popped up again and again as high-performing.
Solon City
When it comes to the best school district in Ohio, this might be it. Solon City Schools appeared as Niche.com's top pick, was the top Performance Index Scoring (PIS) school district in 2022, and earned all fives across the Ohio Department of Education measurement benchmarks.
Solon City runs seven schools. Education starts with an early learning center focused on ages 3 to 5 pre-K. Then, there are three elementary schools for grades K-4, one middle school for grades 5 and 6, one middle school for grades 7 and 8, and a high school for grades 9 to 12.
Solon High School is ranked on the US News Best Schools list for excellent AP science, math, engineering, and computer science achievement. The curriculum includes 27 AP classes across various disciplines, language study in Spanish, French, Chinese, and American Sign Language, and an additional 140 courses from music theory to calculus AB & BC.
This is one of the Cuyahoga County school districts that will appear on this list. Solon City specifically served students living in the City of Solon and the Village of Greenwillow in the southeastern part of the county. This area has been ranked as one of the best places to live in the state and the nation. The thriving job market is part of the reason people come to this top Cleveland suburb.
Chagrin Falls Exempted Village
The third top achiever in the state's PIS also hit all five Ohio School Reporting benchmarks. Chagrin Falls Exempted Village is classified as a small suburban district operating four schools from elementary to high school.
The intermediate, middle, and high schools achieved the National Blue Ribbon Designation. Chagrin Falls High School is a top-ranked school on US News & World Report and had the evaluator's designation as the best school for STEM in Ohio. Coursework includes 28 AP courses and college credit plus. There are 25 varsity sports plus other extracurricular activities.
Chagrin Falls is about 40 minutes east of Cleveland, straddling Cuyahoga and Geauga Counties. The district includes the namesake township, South Russell, and parts of Bentleyville, Moreland Hills, and Russell Township. The picturesque city developed around the waterfalls and the river. It has a scenic downtown area with lots of shops and dining options.
Sycamore Community
Part of the Cincinnati metro, this district earned five stars on all five components in the Ohio School Report Card. Niche.com also ranks it among the best districts in the state, calling it the best in the Cincinnati area and second-best in Ohio. Four of its elementary schools were ranked on Niche.com's best public elementary schools for the Cincinnati area, while two of its intermediate schools in its high school also made those lists.
Sycamore Community runs four elementary schools from K-4, an intermediate school for grades 5 and 6, a junior high school for grades 7 and 8, and a high school for grades 9-12. The high school provides over 223 courses, which include 23 Advanced Placement, college flex options, dual credit courses, and six global languages. It is one of Ohio's most diversified schools, with students from 54 countries.
The school district is in the northeast Cincinnati metro at the edge of Hamilton County. The communities served are Blue Ash and Sixteen Mile Stand. Blue Ash frequently ranks as one of the best places to live in the Cincinnati metro. With a suburban feel, residents have several large metro parks in the community or outside its borders. The city is 20 minutes from downtown but has several major area employers right in town or on the border.
Indian Hill Exempted Village
The third-best school district on Niche.com is another one located in the Cincinnati metro. It's also one of the top-ranked districts on US News and World rankings, one of the Cincinnati metro's top places to work, and a top community for music education in 2022. The district also ranked no. 20 in the state on its PIS scores for 2022.
Indian Hill Exempted Village runs four schools: one primary, elementary, middle, and high. The high school is one of only 181 programs nationwide to receive the Project Lead the Way Distinguished School Designation for its STEM education. The course options included 27 AP courses. School students have earned accolades through the Technical Student Association, Science Olympiad, OCLRE Mock Trials, the Ohio Music Education Association, and athletic championships.
Exclusively for the Village of Indian Hills in northeastern Hamilton County, this area is one of the most affluent suburbs of the Cincinnati Metro. Around 6,000 residents live in a verdant parkland setting. The development emphasized preserving nature. Besides winding roads and homes on spacious lots, residents have multiple parks, walking trails, and a golf course in the community.
Oakwood City
Oakwood City School District operates five schools inside Montgomery County. The school district is in Dayton, which ranks as the fourth best place to live in the state.
The schools tied for eighth place on the 2022 State Performance Index Score. In the index breakdown, it earned a "5" in four of the five possible categories.
Oakwood City runs five schools with a 1:1 technology initiative. The grade breakdowns are varied at the schools, but the titles include elementary, junior, and high school. The high school has 16 AP courses and 8 college credit courses.
Oakwood is highly suburban and runs as an independent city in the Dayton metro, even though the city surrounds its borders. It's close to the expansive Hills & Dales MetroPark and the healthcare system hospitals.
Brecksville-Broadview Heights
Brecksville-Broadview Heights Schools have been steady throughout the years, sometimes ranking as high as no. 7 in the state. This consistent top performer cracked the top 20 for Ohio Performance Index Score and earned four "5" ratings out of a possible five. The middle school is a National Blue Ribbon Award winner.
The school district serves the entire Brecksville city, the majority of Broadview Heights, and some of North Royalton, for around 25,000 residents and 4,000 students. The district runs three schools, one at each standard division level. High school students have the option to attend Cuyahoga Valley Career Center. The coursework includes 29 AP courses and advanced credit honors courses.
Part of the Cleveland metro and Cuyahoga County, Brecksville City is beside the Cuyahoga National Park. In fact, over a third of the city limits is parkland, which includes 2,500 acres of Metro Parks with facilities for horseback riding, cross-country skiing, and more. Broadview Heights has two golf courses and a winery to enjoy. And thanks to I-70 running through the heart of Brecksville, you can be in downtown Cleveland in 15 minutes.
New Albany-Plain Local
New Albany-Plain Local School District earned a perfect five out of five on the Ohio School District reporting. It's consistently in the top 10% of the state's school districts, with aspirations to be even higher. It serves over 5,000 students a year and covers the City of New Albany, Plain Township, and parts of the City of Columbus.
All the schools are located on a centralized 120-acre Learning Campus in the heart of the community. The campus breaks down into five school buildings, from an early learning center Pre-K up to high school. Special features include an MIT Fabrication Lab, an Easton E3 environment land lab, and a library information center on the high school campus. The high school has college credit plus courses and AP courses.
New Albany is about 20 miles northeast of Columbus. It was a rural village for many decades before a construction boom. However, this development has been purposefully planned to create a 21st-Century "Village" with a mind on balance. It was Business Insider's top American suburb in 2015. The community has over 55 miles of trails, 2,000 acres of green spaces, prevalent Georgian-style architecture, and a 5,000-acre international business park.
Rocky River
Behind Solon City in the PIS scores for 2021-2022, Rocky River serves around 2,700 students in a small-school setting. It also scored a perfect 5 out of 5 on all the Ohio School Reporting benchmarks in 2022. It's often rated among Cleveland's best schools and has appeared on the US News & World Report lists for best high schools and middle schools.
The school district operates five schools, from a preschool center up to the high school.
Rocky River High School was a National Blue Ribbon School in 2020. In 2021, 99.5% of its students graduated on time. Around 90% of its graduates continued on to college. Students have dual credit opportunities and college credit plus. The 21 AP courses include computer science, music theory, and Spanish Language. Around 87% of the test takers passed with a 3 or above.
The City of Rocky River has a unique location inside Cuyahoga County. On the northern end is the stunning Lake Erie. Acres of Cleveland Metroparks border the city on the east. It sets up a quiet, suburban vibe for this Cleveland metro community. Even though 20,000 people live here, it doesn't feel like it with the parks and country club.
Minster Local Schools
This is the smallest of the top-performing schools on our list. It ranked no. 6 in 2022 on the PIS and hit all five Ohio School Reporting Benchmarks with a perfect score. As a rural district, it covers a broader area of small communities.
Minster Local Schools only has two schools: an elementary K-6 and a high school 7-12. At the high school, there is the option to attend Tri Star Career, a local vocational school. The district does have a 1:1 technology initiative utilizing Chromebooks.
Minster is a rural village in Auglaize County, almost midway between Dayton and Toledo in the northwestern part of Ohio. Lake Loramie Park is directly southeast, and Fort Loramie is due South on Highway 66. Grand Lake St. Marys State Park is north on Highway 66.
Olentangy
A large, suburban school district, and perhaps the largest on this list, Olentangy earned perfect "5's" on the Ohio School Reporting. In 2022, there were 23,260 students enrolled at one preschool, 16 elementary schools, six middle schools, four high schools, and two specialized academic programs. Another elementary school is slated to open in 2023-2024.
This high-performing district has five Blue Ribbon schools and ACT scores above the national average. It enrolls around half of its juniors and seniors in AP courses. Of those enrolled, 81% scored a 3 or above in 2021-2022. The high schools had a 98% four-year graduation rate. Three of the top 25 high schools in Ohio are in this district.
Olentangy School District covers an expansive area in southern Delaware County. Its location makes the area a suburb or bedroom community for the Columbus metro. The communities include Powell, Orange, Lewis Center, Africa, and Gregory. In between, you'll find the largest Columbus Metro Park, Highbanks, and the Alum Creek Reservoir and State Park.
Schools in Ohio
Remember, there are over 600 school districts in Ohio. Just because the one nearest you isn't on this list doesn't mean it's not a high-performing district. Many other districts were up and down the various lists and metrics. We simply consolidated to see which ones were the highest of the top 20 most frequently. With Ohio's diversity in education and the way the system is set up, you can find an affordable place to live with access to quality schools for your family.