What to Know Before Moving to Myrtle Beach, SC
Posted by Brian Brady on Thursday, March 19, 2020 at 8:43 AM
By Brian Brady / March 19, 2020
Comment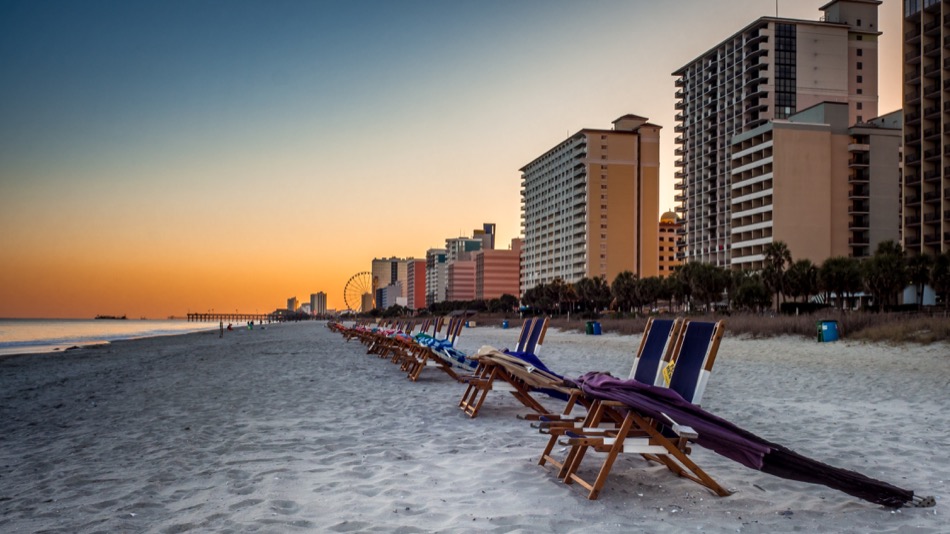 The city of Myrtle Beach, South Carolina, sits in the heart of the Grand Strand, a seaside community with beautiful beaches, prime dining and shopping, premier golf courses, and an expansive selection of residential neighborhoods close to it all. Before moving to Myrtle Beach, check out a few fast facts:
Located 35 miles from North Carolina
Part of Horry County
Population: approximately 32,000 residents
650 acres of public parks and recreation area
Nearly 100 golf courses
Myrtle Beach International Airport (MYR) is on south side
Boardwalk and Beaches
The oceanfront Myrtle Beach Boardwalk that runs from First Avenue North to 16th Avenue North is a hotspot for dining, entertainment, and beach fun. There's something for all ages, from the iconic Myrtle Beach SkyWheel to Ripley's Believe It Or Not!, the arcade, the Second Avenue Pier, and even zipline adventures.
Along the Boardwalk, there are places to shop and eat, like Mad Myrtle's Ice Creamery, Mo Moons, and the Beach House Bar and Grill. Many eateries have open-air patios that are dog-friendly. Step off the Boardwalk onto the beach and enjoy a day of sun and fun. The beaches run along the eastern edge of the city and include the Second Avenue Fishing Pier and the Myrtle Beach State Park Pier located off the Boardwalk.
Things to Do in Myrtle Beach
Beach fun isn't the only attraction in Myrtle Beach. Throughout the city, golf enthusiasts can find a selection of courses, including:
Barefoot Resort & Golf (multiple courses)
Legends Resort (multiple courses)
Whispering Pines
The city also has dozens of parks, including dog parks for canine friends. Residents and visitors to Myrtle Beach can enjoy the Art Museum, Long Bay Symphony, and the Official South Carolina Hall of Fame on Oak Street. Along the Intracoastal Waterway, there are water sports such as kayaking and boating.
Resorts and the Resort Lifestyle
Myrtle Beach is known for its many resorts, both oceanfront and inland. There are resorts for all budgets and lifestyles, several with their own golf courses and private beaches. It's possible to rent a residence in some resorts for extended stay, and others cater to more short-term vacations. However, the resort lifestyle is an option in Myrtle Beach. The real estate market lists condominiums, townhouses, and even detached, single-family homes in resort-style communities. The community may be gated or open, and many include on-site amenities like pools, spas, tennis courts, restaurants, driving ranges/putting greens, and state-of-the-art fitness centers.
Neighborhoods and Schools
When looking to buy a home in Myrtle Beach, there are dozens of neighborhoods to consider. Resort-style neighborhoods can include condominium communities near the beach, and offer ocean views. Gated communities inland provide easy access to major routes like SC 31/Carolina Bays Parkway and U.S. Highway 17. The Grand Dunes is an example of one of the master-planned communities and features multiple subdivisions plus convenient proximity to the Intracoastal Waterway and Business 17.
The Horry County School District serves Myrtle Beach with classes for children in grades prekindergarten through high school. The public schools include 28 elementary, 13 middle, and 8 high schools. Residents may also choose from a selection of private schools as well.
Real Estate in Myrtle Beach
Myrtle Beach real estate is diverse and includes residential listings for condominiums, townhomes, and detached, single-family houses. On average, home prices range from the low $100's to more than $1 million for a custom construction in a gated community. There are nearly 14,000 parcels of real estate within the city of Myrtle Beach. Home buyers can find a cozy beachside cottage or luxury condo in a mid-rise building with an ocean view. Single-family homes often have contemporary traditional looks, with attached garages and a landscaped lot.
Myrtle Beach, South Carolina is more than just a vacation destination. It's a thriving community with a large residential real estate market and neighborhoods situated close to amenities, attractions, and the famous Grand Strand beaches.